Herz Wolf Katz and Sara Cheine Gruber
Hebrew name: Naftali
Secular name: Herz Wolf
Alternate spelling: Hersz
Family of Herz Wolf and Sara Katz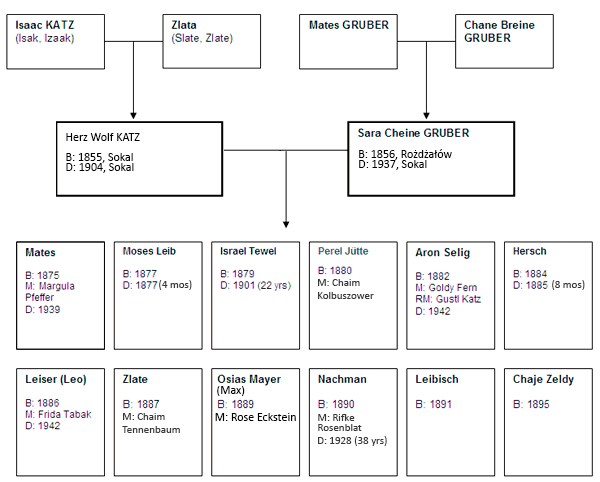 Herz Wolf (Naftali) Katz was born to Isaac Katz and Zlate (Slate) Schnee in 1855 in Sokal. The record of his birth has not been found, however we can estimate he was born in October or November of 1855 based on his death certificate, which indicates that he died on February 7, 1904, at the age of 48 years and 3 months.
Herz is a calque for Naftali (=deer, Hirsh in Yiddish). Naftali's name is confirmed by Michel Katz's Yad Vashem testimony page for his father Aron (Herz Wolf's brother).
Herz Wolf was a grain merchant, and, according to my mother, "led a comfortable life". His occupation was listed as "Getreidehändler" ("grain dealer") on his son Leiser's birth record in 1886. Herz Wolf and Sara Cheine's civil marriage (1891) used the more generic term "merchant" ("Kaufmann"). It's not clear whether this means he later expanded his business beyond just grain trading, or this was simply a clerical shortcut.
Marriage
Herz Wolf married Sara Cheine Gruber (Grüber ?), born in 1856 (+ or - 1 year) in Rożdżałów (today: Rozzhaliv, Ukraine), a village approximately 22kms (14 miles) from Sokal. (Today's population: 680.)
Note: Some geneaolgical records related to Sara Cheine use a different spelling ("Rozdziałów"), or only mention Radziechow. There are two villages named Rożdżałów, one in the Sokal county, in the Radziechów region of the Lviv Oblast, the other not far away but in another County. Because of the occasional mentions of "Radziechow", the first town must be the correct one.
Alternate names/spellings: Chanje, Cheijny, Hannah.
Sokal PSA AGAD, Lwow Wojewodztwa / Ukraine

Marriages
Surname
Given Name
Year
Type
Akta
Age
Sex
Father
Mother
Town
KATZ
Herz Wolf
1891
M
8
35
M
Izaak KATZ
Zlate KATZ
GRUBER
Sara Cheine
1891
M
8
35
F
Mates GRUBER
Chane Breine GRUBER
Rozdziałów

Marriage record, Herz Wolf Katz and Sara Cheine Gruber, 1891.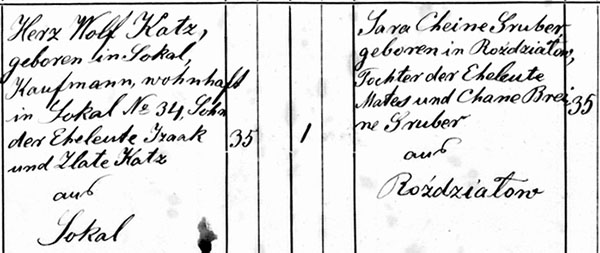 Marriage record, Herz Wolf Katz and Sara Cheine Gruber, 1891 (fragment).
Herz Wolf Katz, born in Sokal, merchant, resident in Sokal, #34, son of Izak and Zlate Katz from Sokal.

Sara Cheine Gruber, born in Rozdziałów, daughter of Mates and Chane Breine Gruber from Rozdziałów
The civil marriage of Herz Wolf and Sara Cheine was recorded in 1891. They were both 35 years old and had already several children. No records of their actual (religious) marriage exists, but since Mathes, their first child was born in October 1875, it must have taken place no later than February 1875.
Eve Katz recalled that:
"[Herz Wolf and Sara Cheine] ran a restaurant."
It is not known whether they actually ran a restaurant (or inn), or whether this only became Sara Cheine's profession after the early death of Herz Wolf. The marriage record for their son Nachman from 1919 show that Sara Gruber was by then an innkeeper.
Children
Until newly discovered birth records, Herz Wolf and Sara Cheine Katz were only known to have had three sons - Leo, Aron and Mates - with the possible controversial addition of a fourth son.
Sokal birth records digitized in 2007 revealed the existence of three more sons. The explanation for these previously unknown children was simple: two of these had died as infants, while the third one had died at the age of twenty-two.
Additional records digitized in 2012 surfaced no less than six previously unknown siblings. Three girls: Perel, Zlate and Chaje Zeldy, and three boys: Osias Maier, Nachman and Leibisch.
The addition of these six newly-discovered siblings radically changes the narrative of the Katz family: instead of being the story of three brothers who left Sokal for Germany around WW1, we now have twelve children, ten of which reached adulthood.
These new additions raise two questions: why was no one aware of the existence of these siblings, and what happened to them?
One of these "forgotten" siblings, Osias Meyer, is none other than Max, the "mystery" Katz brother who came to America. His name may have been erased from the family history because he didn't help his brothers when they were desperately trying to be sponsored for exit visas for the USA on the eve of the war.
As for the five remaining siblings - Perel, Zlate Nachman, Leibisch, and Chaje - if they remained in Sokal as I assume, they were most likely unknown to the younger generation who had left Sokal as infants. They would have been at most just a vague, distant presence in the lives of the children raised in Germany (Toni, Yitzhack, Bill, Max). Their parents, Leo, Aron and Mates, probably remained in contact with occasional letters. Toni remembered receiving letters from Sokal, and Max visited relatives in Sokal in 1938, so it is likely that these vaguely remembered relatives were their uncles and aunts.
They most likely disappeared in the Shoah, probably in Belzec in 1942 with the rest of the Sokal community. Their names don't appear on the Yad Vashem list of victims, nor in the community Yizkor book Sefer Sokal.
See all twelve children.
Death of Herz Wolf
Herz Wolf Katz died February 7th, 1904, of pneumonia at home (house #34) in Sokal. He was 48 years old.
Sokal PSA AGAD, Lwow Wojewodztwa / Ukraine

Deaths
Surname
Given Name
Year
Type
Akta
Sygnatura
Sex
Age
Father
Mother
KATZ
Herz Wolf
1904
D
13
2475
M
48 y., 3 m.
Isak KATZ
Slate KATZ

Death of Sara Cheine
During WW1 [most likely in 1915], Sara fled the advancing Russian army and came to Czechoslovakia with her daughter-in-law Frida. Nothing more is known about her life in the 1920's and 1930's.
Sara Cheine Katz died April 5th, 1937, in Sokal. She was 81.

The death certificate contains two addresses: one, Rynek Stary (the old market place), is crossed out. The other, 52 Ulica (street) Kościuszki, was a large street outside of the Jewish quarter. It is not clear then if she lived on Kościuszki street, or if this was instead the address of a hospital or hospice (the Austrian army had a military hospital on the street during WW1), in which case the old market place would have been where she had lived. It is not known if this corresponds to house #34.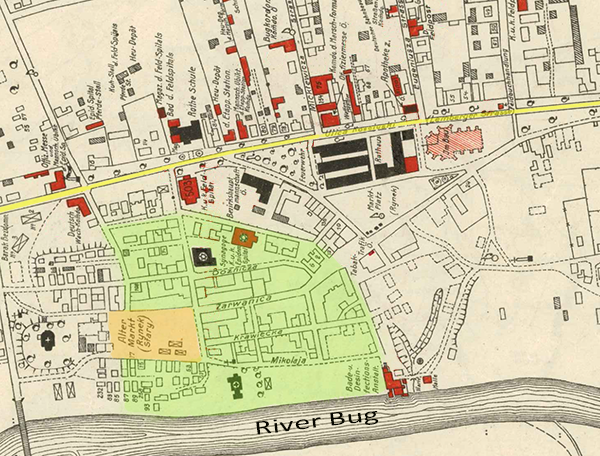 1918 German military map of Sokal.
Kościuszki street highilighted in yellow, the Jewish quarter in green and the old market place in orange.
Source: uma.lvivcenter.org
Special thanks:

Bogdan Dabrowski, for identifying the correct spelling of Sara Cheine's birthplace as Rożdżałów in the Radziechów region of the Lviv area.