Alternate spelling: Isak
Alternate spelling: Chaje
Itzhak Tabak was born in 1828.
Chaja (Tuch?) was born June 7, 1848 in Tarnow. She married Isak Tabak.
Chaja and Isak Tabak had a tavern/inn in Knihynicze, a small village in the district of Rohatyn in Galicia - today part of Ukraine with a population (as of 2010) of 700.
The couple had a son, Mechel Aron, and at least five daughters: Jente, Dwojre, Rivka, Miriam, and Frida.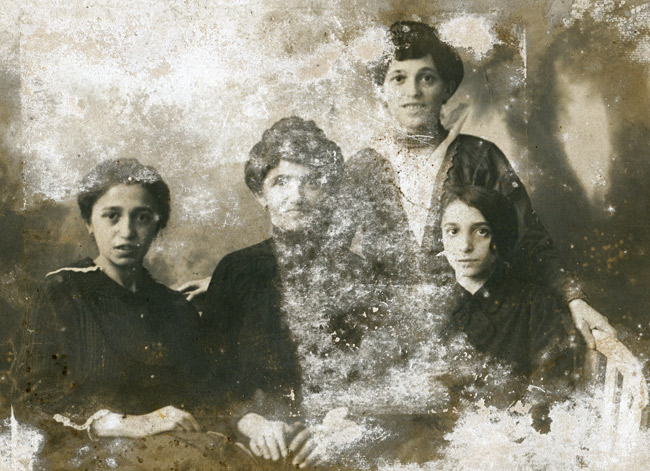 Chaja Tabak and daughters? ca 1905?
(Photo courtesy of Ruthy Erez)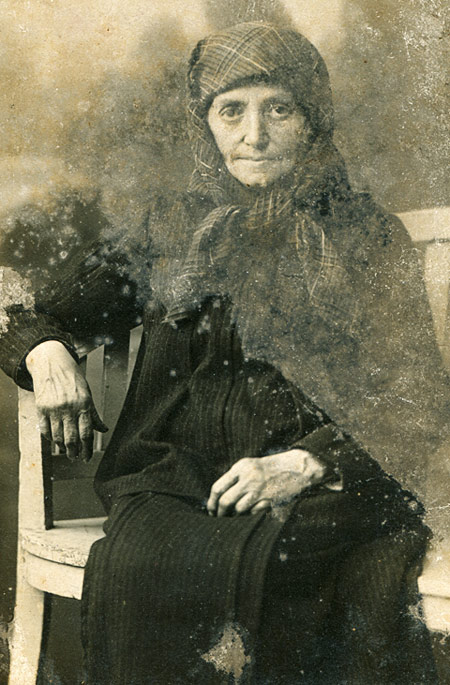 Chaja Tabak, ca 1917
(Photo courtesy of Ruthy Erez)
From an entry in Knihynicze's Zikhor book:
"My grandfather, Yitzhak Tabak, of blessed memory, who was born in 1828, recounted that in olden times, there were military barracks in Knihynicze where a regiment of Hungarians was stationed. In the time of the 1848 revolution, when the Hungarian leader Kossuth raised the flag of revolution against the Austrian monarchy, the Hungarian regiment left Knihynicze on a certain night and went away to Hungary. As is known, the Russian Czar offered to help Kaiser Franz-Josef put down the revolution. Franz-Josef accepted this help, and the Russian Army marched through Knihynicze on their way to Hungary. Jews were filled with fear of the Cossacks who were marching through town and could have caused great trouble. The Jews of Knihynicze turned to the liberal Austrian government and asked that the Russian Army march through Knihynicze by night and not during the day. In this way, our community was saved from Cossack plunder. The dayan, Rabbi Berel, also told me about this event about which he had read in the annals of the shtetl. These annals were destroyed during World War I.

The real trouble for the Jews began with the outbreak of World War I. A few Jewish families, including mine, saved themselves by fleeing to Bohemia. Most Jews remained, however, and suffered great hardship at the hands of the Russians and, more to the point, at the hands of the local Ukrainian population. When the Russian Army left Knihynicze, in 1915, they deported the entire male population of the shtetl, including Rabbi Berel, into the depths of Russia. The women and children remained in the shtetl, untouched. The yoke of earning a livelihood now fell upon the women. The shtetl was nearly empty. Even worse was the situation of the children, as at this point, there weren't even any cheders. Children grew up without supervision and without education. This generation of youth didn't know a letter from a hole in the ground."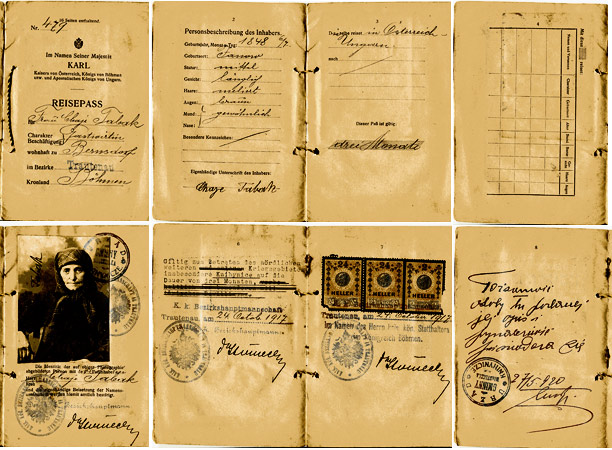 Chaja Tabak's passport, 1917
(Photo courtesy of Ruthy Erez)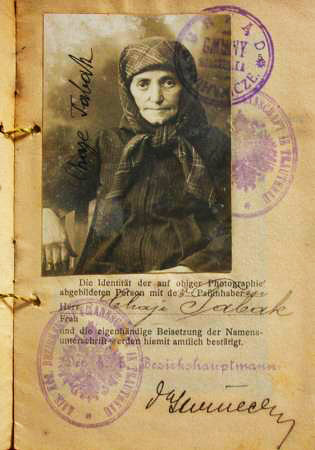 Chaja Tabak, passport, 1917
(Photo courtesy of Ruthy Erez)
Elements that confirm the family connection.
My mother never told me anything about her grandparents, and I ignored everything about them, including their names.
In 2009, an online search for the terms "Knihynicze + Tabak" led me to a photo of Chaja Tabak's passport. I contacted the owner of the photograph - Chaja's great-grandaughter - who found enough elements and documents to confirm the family connection:
She confirmed that Shiffra and Shoshana were also her cousins.
She provided me with several letters from her family that mention Leo, Friedel and their children.
There are also several letters from my mother Toni to her cousing Aryeh (1967 to 1980).
Although the family connection is clear, we haven't been able to establish beyond any doubt that Chaja Tabak was indeed Frida Tabak's mother. In particular, no genealogical records have been found so far.
Excerpts from letters.
Letter to Arieh from one of his sister, dated December 31, 1938, mentioning Frida, Leo, Yitzhak and possibly Toni:
"Freydl and Leyzer (Frida and Leo) have been in Krakow for two months.(*)[indecipherable name Tantse? Reference to Toni Abraham?] stayed there (DA: in Germany) because she was on Hachshara (...) Does Freydl's Itsig (Ytzhak) ever come to see you?(*) (...) We conveyed your (Uncle's) greetings to Aunt Dvoyre and Uncle Mekhl."
Notes: * Frida and Leo Katz were deported to Poland on October 28, 1938 and went to Krakow.
** Yitzhak was in Israel, where the recipient of the letter resided.
Letter, Narajow August 4, 1927:
"I am relying on the excuse that when your aunt comes from Germany, I will be very interested, and I would be entitled to meet her as a member of your family. Especially because she is a sister of your dear departed mother. "
Postcard dated August 8, 1927:
"Aunt Frida came to visit yesterday and I want to introduce her to you next Thursday or Friday. (...)Leib

"Let me extend my wishes to you. I am looking forward to meeting you. Many greetings. From your aunt Frida."
Special Thanks:

Ruthy Erez, all photos and information.