The family name of the paternal side of my family was always given as "Abraham", with the origin of the family being unquestionably Sepaharad - Jews who had been expelled from Spain in 1492 and had come to the Ottoman Empire. The family came from Ruschuk (Ruse), a city in Bulgaria with a large Sepharad community.
Indeed, Haim Abraham, the brother of my grandfather about whom more details are known than about my own grandfather Moritz, is documented for having spoken Ladino (Judaeo-Spanish). From this, I must assume that my grandfather too spoke Ladino, and thus assumed I could safely confirm the connection of the Abraham family to Spain dating back to the 15th Century.
A few other elements seem to confirm the family's ties to the Sepharad world, such as records from the Sepharad community from Constantinople, and later, the granting of the Spanish citizenship to my grandfather, and by extension to my father, then to my sister.
The reality however may be a bit more complicated. First, although the Jews from Ruschuk spoke Ladino, the Jewish community of Ruschuk was mixed, with a portion coming from Austria, Germany and Russia. In the 20th century, there was an Ashkenazi Synagogue in Ruschuk in addition to the main Sepharad synagogue. The Sepharad population, being the largest of the town's Jewish community, their culture became the dominant one and was adopted by the community at large. Being from Ruschuk and speaking Ladino are then not enough to guarantee that one's family actually descended from Jews exiled from Spain.
Abraham or Abramov?
The family name may then be a better indication of a family's origin, as it is quite easy to distinguish names of Spanish, Italian, German or Russian origin. This is where things get a bit complicated for our family.
Sara Eldar used "Abramov" as the family name in her notes. (TBC). I assumed it could have been an error, however I found two likely name variations for Isaak Abraham, a brother of my grandfather.
One of the only documents in my posession regarding Isaak Abraham is a calling card where he appears as "Isaac Abraham, Fondé de Pouvoirs de la Société de Crédit Ghirdap, Varna".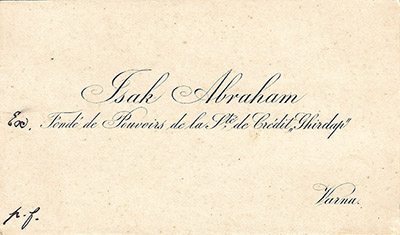 Isaac Abraham, (Ex) Fondé de Pouvoirs de la Société de Crédit Ghirdap, Varna
Several mentions of an Isaac Avramoff, "Directeur de la Société de Crédit "Ghirdap", Varna" appear in various Jewish publications of the 1920's.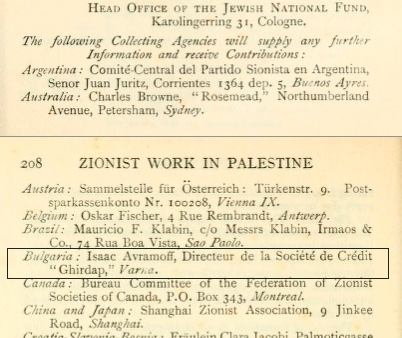 Isaac Avramoff, Directeur de la Societe de Credit "Ghirdap", Varna
Isak's name also appears in three issues of "Die Welt", the publication of the Zionist Organisation, listing donations he collected. (10 February 1911, #6, 7 April 1911, #14, July 19 1912, #29).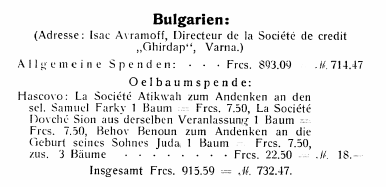 Die Welt, 1912: Isaac Avramoff
The most likely explanation is that "Isak Abraham" and "Isaac Avramoff" are one and the same person.
Another document seems to confirm the equivalence between the two names. This draft of a Power of Attorney drawn in the 1920's is mortgage agreement between Isak ("Abramov") and Rebecca Yaakov for her one half of a house in Ruse. Rebecca, wife of Solomon Jakob, was Isak Abraham's grandmother.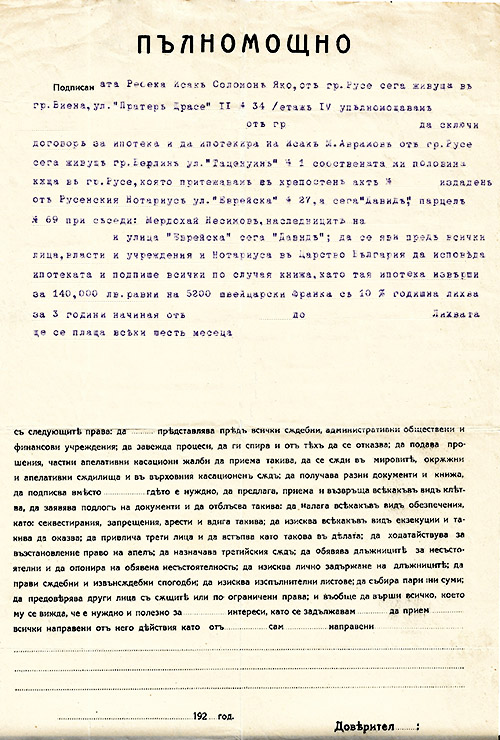 Power of Attorney for mortgage, 1920's
"I, Rebecca Isaac Solomon Jakob, from the city of Ruse, now living in Vienna, 11 Prater Straße # 34, floor IV, auhtorize ( no name ) from ( no city name )
Since Avramoff and Abraham seem to have been used interchangeably for at least one member of the family, there can be two possible explanations for the variations: either the family name was originally "Abraham" and was "Russified" to Avramoff, or, conversely, the name was originally "Avramoff" and was later changed to "Abraham".
In the first case, it would indicate a desire to better integrate into a Russian-speaking commmunity. Although not out of the question, it's not clear if this was indeed something that happened in Bulgaria at that time; it's not clear for example if Bulgarian names did indeed sound Russian.
If on the other hand, the family name changed from Avramoff (or Abramoff) to Abraham, it would likely indicate that this part of the family was not Sepharad but came originally from Russia, upending what we learned about our roots. This would mean that the Abraham family's roots were not Spanish, but in part Russian - the Spanish origin on the remaining sides of the branch being more clearly Sepharad (Solomon Yaakov, Rebecca Kovo, etc.)
2022 update: According to /www.sephardicgen.com, "ov" is actually a Bulgarian suffix, so Avramov (or Abramoff) may simply have been the Bulgarian version of Abraham, and not indicate a Russian origin after all.