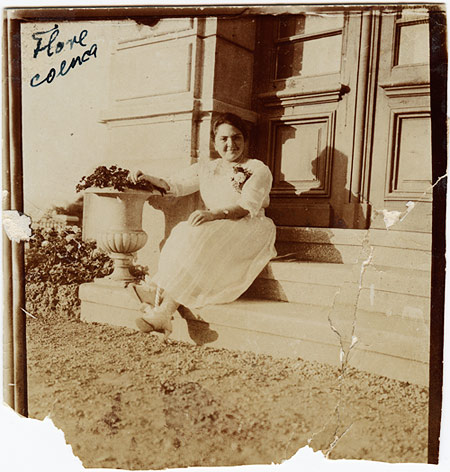 Flora Coenca
This photo of a Flore Coenca - probably dating from 1908-1920 is accompanied by a note that says "cousin of M.A." (Moritz Abraham).
This means either Mamo Abraham, or Mamo's wife Lea had a sister who married a Coenca.
Update - 2017: Actually, Flora Coenca was the daughter of Joseph Coenca and Rica Covo. She was then related to Mamo's wife Lea, whose mother was Rebecca Covo. See the family tree for clarifications.
Meyer J. Coenca
A calling card sent for Gabrielle's birth from "Mr & Mme Mayer J. Coenca", 49 rue Georges Sorel, Boulogne (the studio Ronya would buy in the 50s or 60s?)
Also, on a 1958 legal document ("L'acte de notoriete pour remplacer l'acte de marriage"), one witness was M. Kohenka, aka Coenca Mayer, businessman born in Constantinople, 31 May 1881.
Assuming this was a relative of Moritz Abraham.
Notes
In the list of "Family Names of Ruschuk Jews" in the December 2001 issue of the Etsi publication, the name Cuenca is listed.
In the "Bulletin de L'alliance Israelite Universelle, 1er semestre 1884", a Coenca is listed for Constantinople.
If this was the same family, could it also explain the movement of the Abraham brothers from Ruschuk to Constantinople?
Other coincidence?
Joseph Coenca, father of Flora, was born in Istambul and died in Nice in 1942.
Mony Abraham visited Nice where he died in 1938. There is a strong possibility that the reason Mony went to Nice was to see this relative.
The Coenca family may be the link between Roushtouk and Constantinople, the reason why the Abraham brothers left for Constantinople.