Aron Selig Katz and family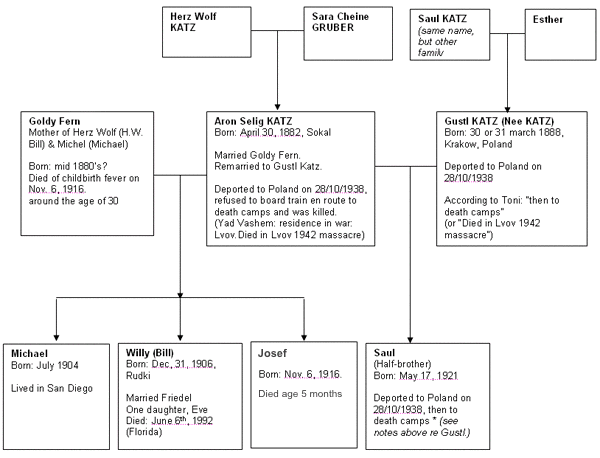 Aron Katz - family tree.
Aron Selig Katz was born April 30, 1882 in Sokal, the son of Herz Wolf Katz and Sara Cheine Gruber.
Sokal PSA AGAD, Lwow Wojewodztwa / Ukraine
Records from: Births 1858-1905
Given Name
Year
Type
Akta
Sex
Father
Mother
Mother Town
Aron Selig
1882
Birth
71
M
Herz Wolf KATZ
Sara Cheine GRUBER
Rozdzalów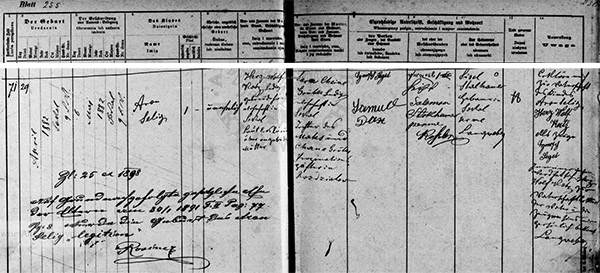 Note that the house seems to be #9, which doesn't match the location of the other births in the family (#23 and #34).
Aron married Golda (Goldy) Fern from Rudki, a small sthetl about 80 miles (130kms) from Sokal, with a population of about 2500 in 1880, 50% of it Jewish.
It was common practice at the time for the groom to move to the sthetl of the bride, explaining why Aron moved from Sokal to Rudki.
Aron Selig Katz, born in Sokal, merchant in Rudki, son of Wolf Katz et Sara Chajny, née Gruber, married Golda Fern*, born and living in Rudki, daughter of Daniel Fern and Malka, née Teicher, innkeeper in Rudki.

(* In the death record of Josef Katz, the couple's third child, she is listed as "Jenny Fernc".)
The civil marriage is dated March 23, 1907. At the time, Aron was 25 and Golda 23. The actual marriage could have taken place up to six or seven years earlier. However, since religious records from Jewish communities have not survived, we can only guess when the marriage actually took place. Aron's and Golda's first child Meichel (Michel) was born in July 1904, which would place the date of their marriage to October 1903 at the latest.
In Rudki, Aron owned a furniture store.
His grand-daughter recalled:
My father (Bill) was once locked in it and frightened, as a small child, waiting to be "rescued".
Aron and Golda's son Herz Wolf was born on December 31st, 1906, in Rudki. He was named after his grandfather Herz Wolf Katz. After coming to America, he would change his name to Henry William Katz (H.W. Katz).
Two years later, another son, Michel, was born in July 1908.
In 1910, another child, Hersch, was born. Aside from his birth record, nothing else is known about him. It must be assumed that he died as an infant, sometimes before 1914.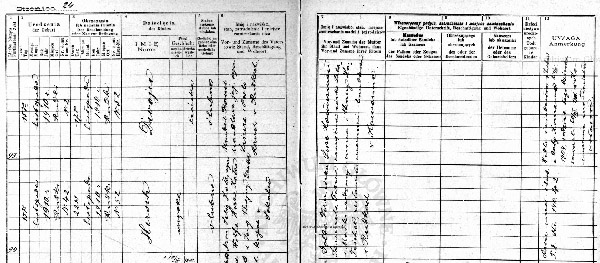 Hersh Katz birth record, 1910.
Source: AGAD (Central Archives of Historical Records in Warsaw)
(Via Yossi Mund)
1914: The family fled Poland during WWI and came to Gera, where Aron's brother Mathes lived with his wife and daugher.
1916: November 6, 1916: Goldy gave birth to a third son, Josef, and died of childbirth fever. She was about thirty years old. Her son Josef died shortly afterwards at the age of five months.
Eve Katz: "[Bill Katz] was around 7 or 8 years old at the time his mother Goldy died around the age of 30 in childbirth, and was stricken by the loss. Indeed, in some sense, it remained with him always."
1920's: According to Siegmund Spiegel and to my mother, Aron went to the USA in the early twenties, but, disenchanted, returned to Germany.
Siegmund Spiegel:
"(He came to the US) in the early twenties... for a short time, and (he) came back to Gera. He liked it better in Gera. He had another brother here, (the "unknown" Katz) the one I mentioned earlier, the one I'd gone to see, I forget his name, who had problems, financial problems, and his wife had medical problems... but... he went back!..."
However, according to his daughter, Eve:
"The information … about Aron going to the United States at some point is incorrect. This I am sure of. In my father's first novel, Die Fischmanns, Yossel goes to the U.S. and then returns to his family in Europe. This intrigued me and I asked my father if this had happened. It had not; it is fiction."
19??: Aron Katz wed in a second marriage Gitla Gusti Katz. (Her birth name was Gitla, also spelled Gitel, Gitl; Gusti - also known as Gustl - was her secular name, short for Augusta.) Gusti was born in Krakow, the daughter of Saul Nuchem Katz and Ester Lea Rosenberg Katz. She seems to have come from a very religious family which included several rabbis, although a sister of her mother converted to catholicism. 1
Eve:
"Aron was "talked into marriage" with a woman from Munich named Gustl, née Katz. She was extremely orthodox and my father (Bill) was not happy in that home. He moved out to a furnished room."

"My father moved out of his home as a teenager, something almost unheard of. He spent much time in Mary's home and often ate in Leo and Frida's home. Saul was of course many years younger than my father and I do not think they ever came to know one another well."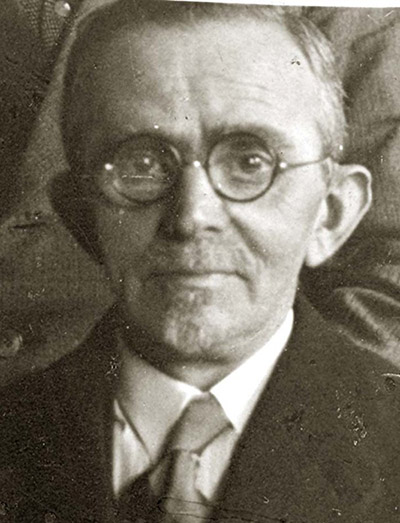 Aron Katz
Source: Yad Vashem (Submitted by his brother Michael Katz)
Siegmund Spiegel:
"Gustel was a hard woman. A very ambitious woman. Constantly running. Her husband (Aron) walked around with a cane, very slowly…"
The family lived on HospitalStrasse, in Gera.
1938: During the "Polenaktion" of October 28th, Aron, Gustl and Saul were deported to Poland, along with 17 000 Polish Jews. They managed to get to Lwow and stayed, at least in the beginning, with Aron's sister Zlate and her husband Chaim Teenenbaum.
Less than a year later in September 1939, Lwow was invaded by the Soviet Union. The city would remain under Russian control until 1941. Then, on June 30, 1941, the Germans invaded Lwow and violence against the Jewish population started immediately. The Jews were forced to move into the ghetto at the end of 1941.
1942: Two major Aktions took place in in March-April 1942, then in August of that year, during which tens of thousands of Jews were either deported to the Belzec extermination camp or shot to death in Lwow. According to Eve Katz, Aron refused to board the train en route to death camps and was murdered by the Nazis in Lwow. According to my mother's testimony, Gustel and Saul were deported to a death camp [Belzec]. According to Michael Katz's Yad Vashem page of testimony, Aron, Gustl and Saul were killed in the 1942 Lwow massacre.
Saul Katz
Saul Katz was born May 17, 1921, the son of Aron Katz and his second wife, Gusti, née Katz.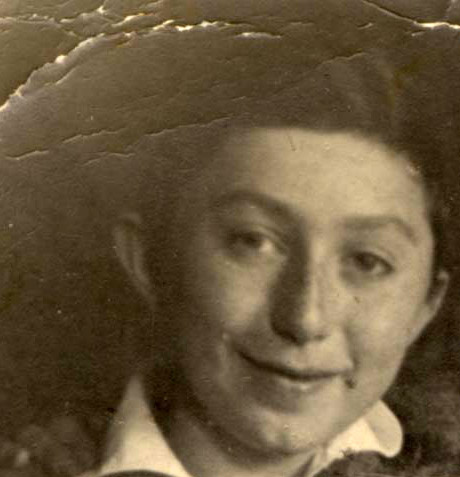 Saul Katz
Source: Yad Vashem (Submitted by his brother Michael Katz)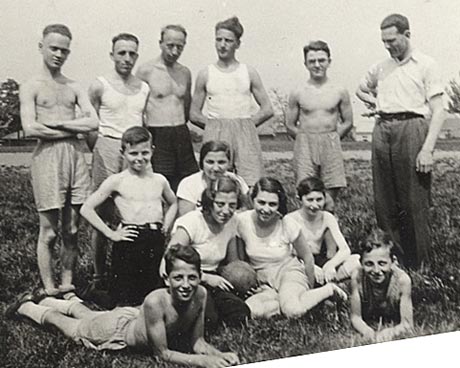 Saul (lying, far right) with the Bar Kochba sports group, ca 1933 or 1934?
(Photo courtesy of Siegmund Spiegel)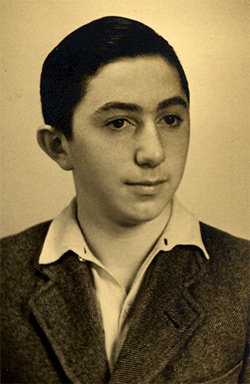 Saul Katz
(Collection of the author)
Saul was deported to Poland with his parents on October 28, 1938 during the so-called Polenaktion. Ten days after the deportation, he sent a postcard to his friend, Siegmund Spiegel, asking if he had managed to contact his uncle Max Katz, in the hope that his relative would be able to help his family obtain an exit visa to the USA.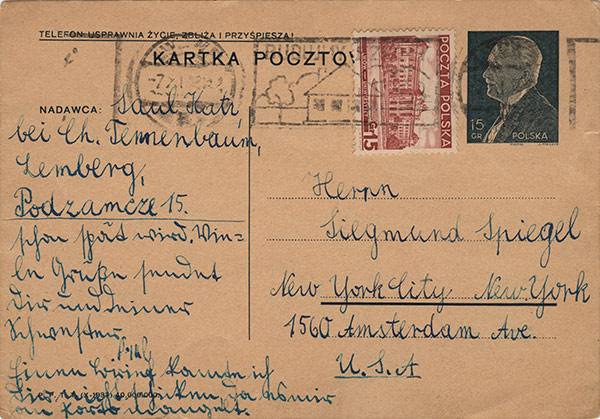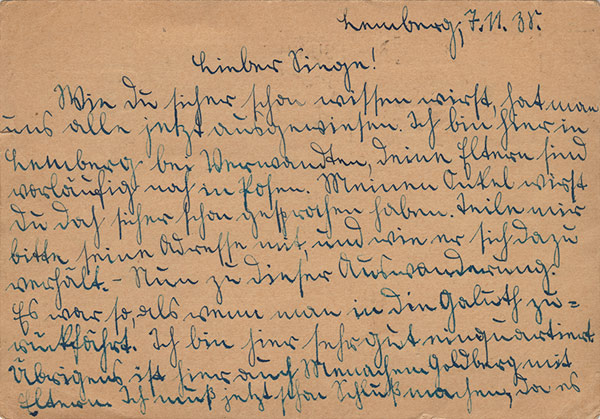 Postcard from Saul Katz, Lviv, 1938
(Courtesy of Siegmund Spiegel)
c/o Ch. Tennenbaum
Lemberg
Podzamcze 15

Lemberg (Lwow, Lviv), November 7, 1938

I'm sure you know by now that all exit visas... (?)
I'm here in Lemberg with relatives. Your parents (Sigmund Spiegel's) are temporarily in Posen.

I'm sure you have talked to my uncle* in the meantime. Please let me know his address and how he reacts to our request.
Now as to this exodus, it was as if one was sent into the Galut. I'm very well situated (?). Also I ran into Menachem Goldberg and his parents.

I now have to cut it short since I can't afford to write a letter, I have no money for postage.
Best regards to your sister,
Saul
Saul was murdered in 1942 with his parents, either in the Lviv massacre or in a death camp.
Michel Katz
Meilech (Michel) Katz, son of Aron Selig Katz and Golda Fern, was born in July 1908.
Meilech (Michel) Katz's birth record, 1908
Source: AGAD (Central Archives of Historical Records in Warsaw)
(Via Yossi Mund)
Michel Katz, Germany, 1930's.
Marriage certificate between Michel Katz and Margarete (Grete, Malgorzata) Saul. Berlin, March 1936.
Source: Ancestry.com
(Via Yossi Mund)
In March 1936, Michel married Margarete ("Grete", Malgorzata in Polish) Saul in Berlin. Born in Berlin in 1913, she was a German citizen, but her Polish name (Malgorzata) indicates her family must have been Polish Jews. Michel and Margarete were both registered at Choriner Straße 49 in Berlin, the address of Margarete's father, a book reviewer by profession.
Michel's occupation on the marriage certificate was "landwirtschaftlicher Praktikant" (agricultural trainee), while Margarete's was "hauswirtschaftliche Praktikantin" (domestic, home trainee), indicating that they were both most likely in a Hachscharah site, of which there were many in the Berlin area.
According to Friedel, it might have been a "marriage of convenience" - maybe to get another person out to Palestine, although they did stay together.
A month later, the couple fled Germany, arriving in Mandatory Palestine on April 27, 1936.
Michal Katz, from the Palestinian Citizenship Apllication, ca 1941.
In October 1941, the couple applied for Palestinian citizenship. By then, Michel - now called Michal - was serving in the R.A.F, fighting against Nazi Germany in the British Army. The citizenship application listed his civilian occupation as a cook, and their address was Rabbi Kook Street in Tel Aviv (Rehov HaRav Kook).
It is assumed he later also fought in the Haganah during Israel's Independance War.
Michel and Grete Katz, Palestine.
Michel and Grete then moved to New York in the fifties - sometime between 1950 and 1955, then went to San Diego. The couple had no children.
Special Thanks:

Yossi Mund for sharing links to genealogical records.
Bogdan Dabrowski for providing additional information on Gusti Katz's family.
Sources and References

Yad Vashem (Aron)
Yad Vashem (Saul)
1: Bogdan Dabrowski, a descendant of Gusti Katz's family. (2023)