My first day in a recording studio should have been my last: at the end of my first day as an intern in a 16 track demo studio in the Pigalle district, the owner told me that I "wasn't made for studio work and should look for something else."
Luckily, after calling every studio in Paris and learning the true meaning of "leave your name, we'll call you," the very last one on my list accepted to take me in and train me. Fresh out of school, I had finally gotten my proverbial foot in the door and started working as an assistant in a studio on the outskirts of Paris. There I learned my way around the control room. Long before sequencers, drum machines, digital effects or automation, making records was part magic, part trade secrets and part improvisation.
Pretty soon I started engineering my own sessions, working mainly with rock and metal bands, although there were always African, Carribean, Jazz, Blues, soundtracks and pop projects in my life as a staff engineer.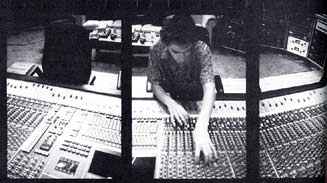 Right Track Studio, NY. (from Mix Magazine feature article.)
In 1985, Duran Duran came to Davout Studios where I was now a staff engineer, to record demos for the Notorious album. They liked what they heard and took me back to London with them, to engineer the entire project. After six months in London, we went to New York to mix. I ended up spending three years working with them on a series of lps (Notorious, Big Thing, Goes Dutch), remixes and a series of live recordings. Good times.
I decided to stay in New York and started doing 12" remixes for various DJ/remixers. Artists de/re/constructed for club and radio included The Fine Young Cannibals, A-Ha, XTC, Adam Ant, Yazz, and Grace Jones.
By 1988, this led to doing my own remixes, mixes and productions, for artists such as Madonna, Aaron Neville, Seal, Cece Peniston, Celine Dion, Gloria Estefan, Me'Shell Ndege'Ocello, Joni Mitchell and Amy Grant.