Name variation: Isrolke.
Very little is know about Israel Datnowsky, and most of the information about him concerns his mysterious death. He died a young man, was never married and had no children.
Israel (Isrolke) Datnowsky was born in Libau (Liepja), Latvia, in 1893(*). The fraternal twin of Eva (Liska), he was the only son among the four children of Abraham and Bassja Datnowsky.
* Problem: Eva/Liska was supposedly born in 1895... At least one of these dates is wrong.
There is very little information about Israel's short life. Complicating the issue, the information available is either unreliable - second-generation stories embelished by time or modified to protect the family - or else guessed from a handful of photographs. There are no direct accounts from people who actually knew him.
The earliest surviving photo of Israel Datnowsky dates from 1906 and was taken in Bern, Switzerland. I suppose that he was there as a young student, suggesting that his family was wealthy enough to afford a foreign education for their son. Since he looks a little older than thirteen, either the date of the photo, or his date of birth (or both) may actually be off by a couple years.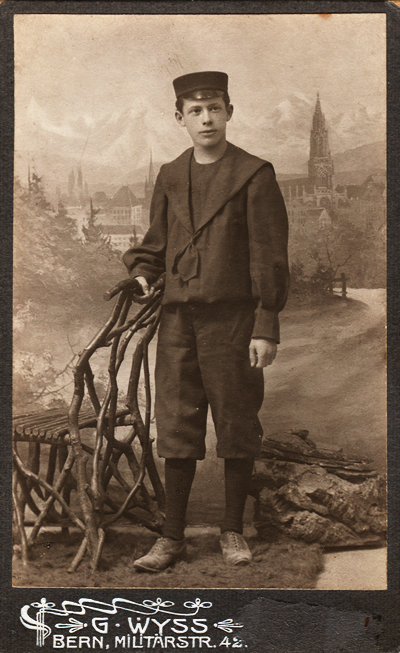 Israel Datnowsky in Bern - 1906(?)
Around 1909, Israel's mother Bassja died of cancer. After her death, Israel, his sisters Eva and Ronya went to Constantinople where their older sister Bertha had just moved with her husband, Israel Auerbach.
Bertha introduced her younger sisters Ronya and Eva to their future husbands - Moritz Abraham from Constantinople and Asher Mallah from Salonique.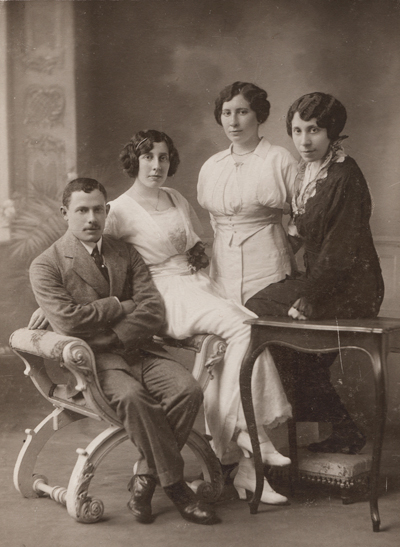 Israel with Bertha, Ronya and Eva in Constantinople - 1909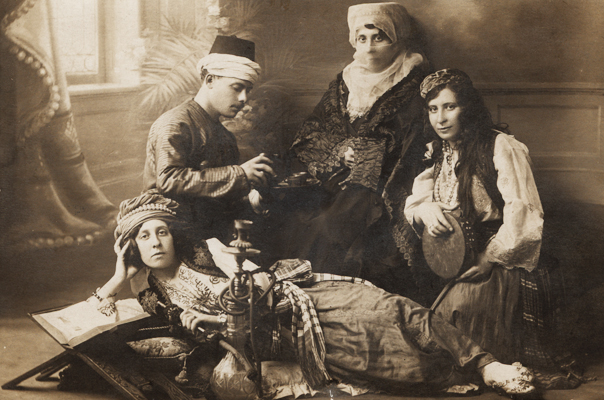 Israel with Ronya, Bertha and Eva in Constantinople - 1910
As for Israel, according to family lore (as told by Uriel and Michael Rosenberg), "he didn't learn" - meaning he was a poor student, or wasn't very smart, and the family "decided to send him to Palestine."
Palestine
The exact date of Israel Datnowsky's immigration to Palestine is not known, but could have been as early as 1910. At the end of that year, his sister Ronya had travelled to Palestine, and it is possible that they made the trip together. Alex Mallat gave 1913 as the date for Israel's arrival in Palestine.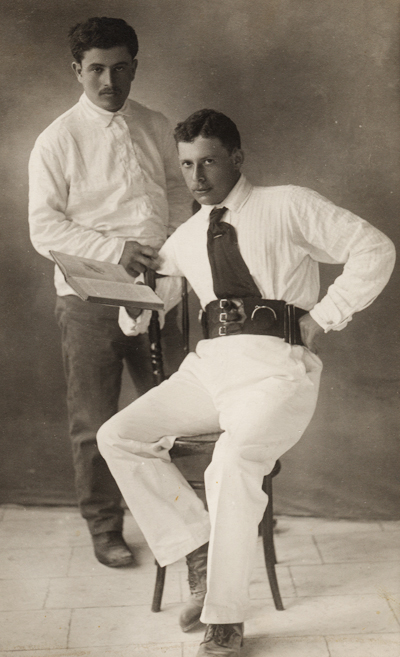 Israel Datnowsky with friend, Palestine - 1915
Instead of going to a Jewish settlement, Israel went to the templer colony of Wilhelma (today, Bnei Atarot.) templers were Protestants from Germany who had started settling the land to hasten the return of Jesus to the Holly Land. Why would he have gone to a Protestant colony instead of a Jewish settlement?
A possible answer is that Israel's actual destination may have been the agricultural college created in 1909 in Wilhelma. Since Israel, like all Datnowsky children, spoke German, it probably made the most sense for him to study in a German school, and not in an establishments where French or Hebrew were used.
Wilhelma, postcard. (collection of the author)
Wilhelma, postcard. (collection of the author)
Wilhelma, postcard. (collection of the author)
Israel mailed this postcard from Wilhelma on April 4, 1915:
"Plowmen in Kfar Uria": Postcard sent from Wilhelma - April 4, 1915.
Wilhelma, April 4.

Dear all!

You have probably received my letter. I am doing very well, and I hope to hear the same from you as well.
I have written to Liska, Papa and Bertha as well. Here everything is uneventful as usual.
How were your holidays? I am looking forward to hear from you soon.

Best wishes
Israel
The mysterious death of Israel Datnowsky
Israel Datnowsky died in the summer of 1916. He would have been 23 (provided his date of birth was correct).
According to the official explanation told in the family (Uriel, who learned if from Ronya), Israel died of a typhus epidemic in 1916 (Alex Mallat remembered it as paludism.)
However, this version is contradicted by a contemporary account, as recorded by the agronomist and founder of the Nili spy ring Aaron Aaronsohn in his diary:
August 15, 1916, Constantinople:

"Ronya received a telegram from the Jaffa Consulate announcing the death of Datnowsky Israel at Wilhelma, following an accident. This telegram which left Jaffa on the 1st, only arrived here on the 13th."
Note that the August 1 date contradicts the date on Israel's tombstone.
According to Michael Rosenberg (Bertha's grandson), his mother Lea always said that the epidemic explanation was a made-up story. She also believed it hadn't been an "accident" but probably a deliberate act. She believed Israel might have been after a girl in Whilhelma, and would have been killed by a jealous husband.
Since - according to Michael - Lea didn't know about the Aaronsohn diary, she might have had some evidence to believe in a sudden, accidental death. Michael also theorized that Ronya knew more than the official story she shared with everybody, but may have felt that the way Israel had died was a disgrace for the family and had to be explained more naturally.
At the end of WW1, in a letter dated November 18, 1918, Ronya's husband Moritz announced to Eva's husband Asher Mallah that:
"...sadly, Isrolke is not among the living anymore. He fell to typhus two years ago in Jaffa. I let you decide how to break the news to Liska."
Is it possible that Liska, Israel's fraternal twin, hadn't been told about her brother's death for two years? And if so, why was it left to Moritz to break the news? Why didn't Ronya tell her sister Liska what had happened to their brother? Finally, why was typhus blamed if Aaronsohn had mentioned an accident?
The answer of what actually happened can be found in a letter from Avshalom Feinberg (the poet and lover of Sarah Aaronsohn) to Sarah Aaronsohn (the NILI spy married to Haim Abraham) dated December 16, 1916:
הידעת, שׂרתי, שדטנובסקי שלח יד בנפשו בווילהלמה ומת לפני חדשים אחדים? אני שמעתי את זה רק בהיותי בחיפה.

"Did you known, my Sarah, that Datnowsky committed suicide in Wilhelma and died a few months ago? I only heard that when I was in Haifa."
from: Feinberg Letters to Sarah
If Feinberg's explanation is correct, the discrepancy with Aaronsohn's explanation ("an accident") can be explained by the fact that the wording of the telegram sent to Ronya was probably meant to soften the blow. Also, Ronya's explanation can be understood as having been intended to hide what really happened, which apparently never completely convinced everyone (see Lea's doubts).
The suicide however would then raise a new question - why did Israel decide to end his life? And this answer might possibly take us back to the real reasons why he would have been sent to Palestine, or why he was treated as the "black sheep" of the family.
Aside from finally providing us with a likely explanation for Israel's death, Avshalom Feinberg's letter is also interesting as it shows that he knew Israel Datnowsky. Although it's not clear how close they were, or what the connection was, it does confirm that there were a number of people whose lives intersected: Sarah and Aron Aaronsohnl, Avshalom Feinberg, Israel and Ronya Datnwosky, Haim and Moritz Abraham.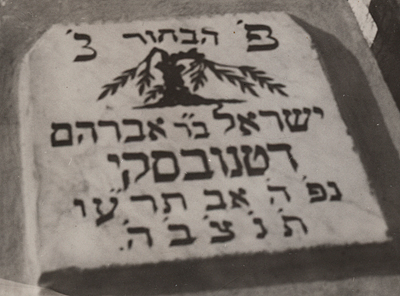 Israel Datnowsky's tombstone in Petah Tikwah
Boy (*Not married)
Israel, Son of Abraham DATNOWSKY
5 of Av 5676
(*August 4 1916)
The date on Israel's tombstone places his death on the 5th of Av 5676, which is August 4 1916, yet, according to Aron Aaronsohn, the telegram announcing Israel's death had been sent on August 1.
Special thanks to Dr. Gilad Rosenberg for solving the mystery of Israel's death.
Interviews:

Michael Rosenberg
Bitia Biesel
References

Aaron Aaronsohn Diaries
Avshalom Feinberg's letter to Sarah Aaronsohn, from

Papers and Letters of the late Absalom Feinberg

Shikmona, Jerusalem, 1975

,
Online version: http://benyehuda.org/feinberg/letters_to_sara.html

benyehuda.org