A collection of miscellaneous photos from the family archive.
Assortment of photos from my paternal grandparents, some with links - even if merely tangential - to their lives, others without an obvious direct connection to the family history. Posting them here to help make sense of how these pieces may fit in the larger family history.
Some of these photos help provide a better sense of their environment. Others are more mysterious - maybe someone, someday, will come across some of them and will provide some insights.
Palestine - 1910's
There are a few photos from Palestine in the family collection. Six are from Ronya's visit to Palestine in 1909-1910. Three other photos seemingly from the same time but taken by three different photographers: one taken by a friend of the family, Dr. Wallisch, one unknown who wrote a caption in Hebrew, and another unknown who captioned his photo in English.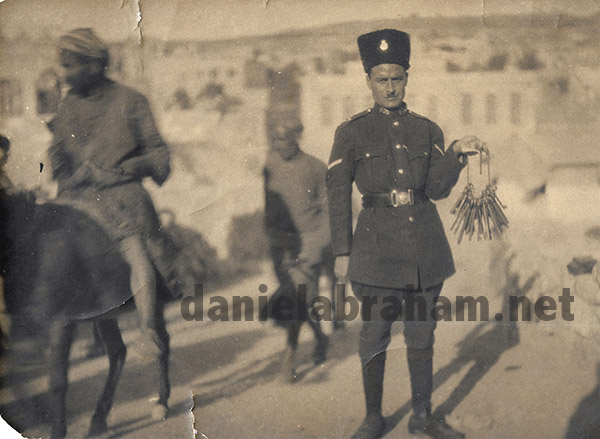 Turkish policeman in Hebron holding keys to Jewish houses. Undated.
The photo is inscribed in the back (in Hebrew): "A picture of a policeman in Hebron, carrying the keys to the Jews houses."
I don't know who took this photo, when, or why it is in the family collection. It could be related to the voyage my grandmother Ronya Datnowsky took in Palestine in 1909-1910, however the other photos from that trip are printed on different paper, and none have inscriptions in Hebrew. Based on the quality of the photo, I assume it was taken by an amateur, probably a traveller. The handwriting doesn't seem to match Haim Abraham's.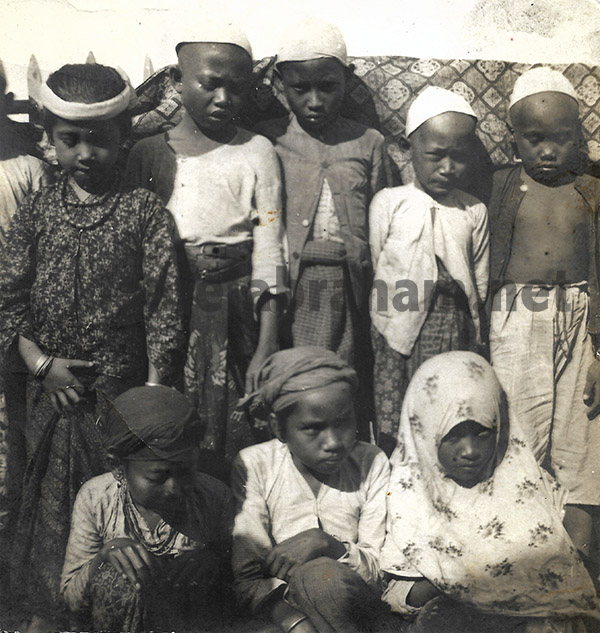 Children of the Dead Sea. Photo Dr. Wallisch.
Assuming ca. 1910
"Dr. Wallisch" might be a misspelling on my grandmother's part and be the same person as "Dr. Wellisch". Dr. Wellisch was Herzl's unofficial representative in Constantinople ca 1903, also Turkish Ambassador in Vienna and Permanent Board Member of the Education Ministry. See his calling card in the family collection.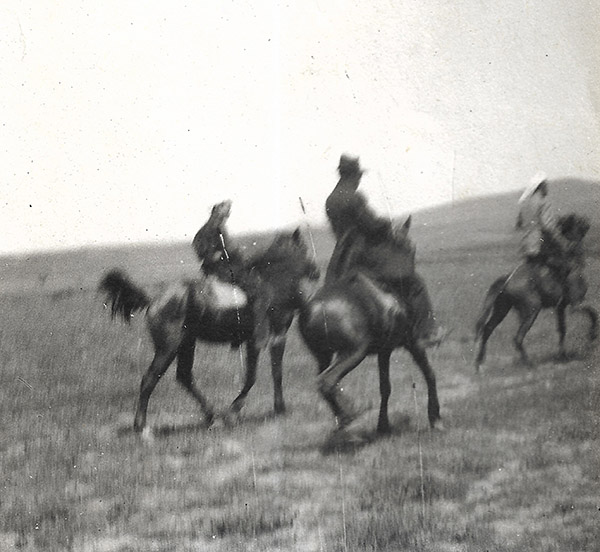 "ICA colonists in meeting party at frontier of colony".
Undated, assuming ca. 1910
Surprisingly, the caption on the back of this photo is in English. It's not clear who took it, or what the connection is with Ronya or the Abraham brothers.
ICA provided help to independant settlements including Gederah, Haderah, Nes Ziyyonah, and Mishmar ha-Yarden. Between 1900 and 1903 ICA created 4 new moshavot, Kfar Tavor, Yavniel, Melahamia (Menahamia), and Bet Gan. In addition, it established an agricultural training farm at Sejera (Ilaniyyah).
Constantinople
Balkan War and World War One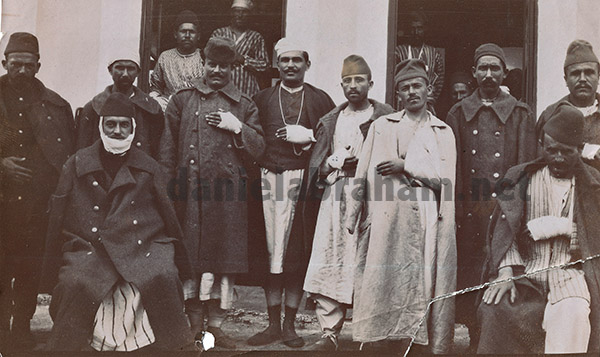 Wounded Turks in the Balkan War, 1913
My grandmother, Ronya Datnowsky, was a volunteer nurse during the Balkan War in Constantinople.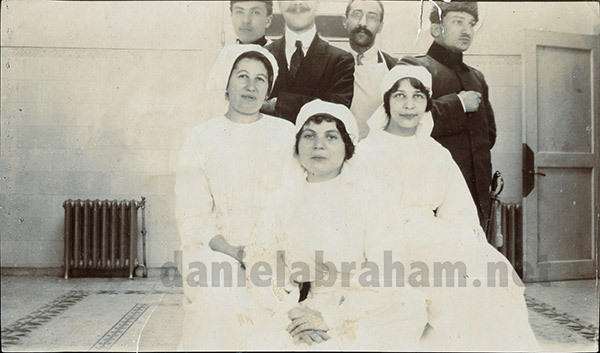 Mrs. Abramowitz and two other war nurses, 1913 or 1915
Either Balkan War, 1913, or World War One, 1915.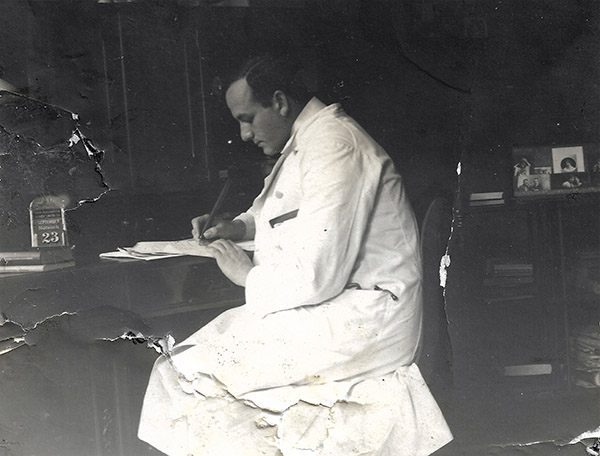 Dr. Feinstein, of the Red Cross, September 1914.
The calendar on his desk helps date this photo to Wednesday, September 23, 1914. The Ottoman Empire would enter the war a little over a month later, on 29 October 1914.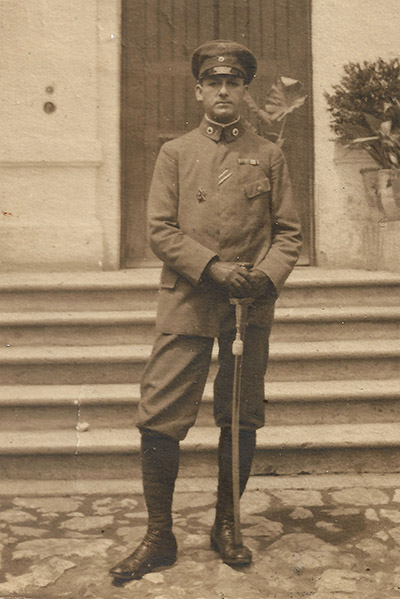 Dr. Feinstein, of the Red Cross.
Wearing the Red Cross uniform, carrying a sword.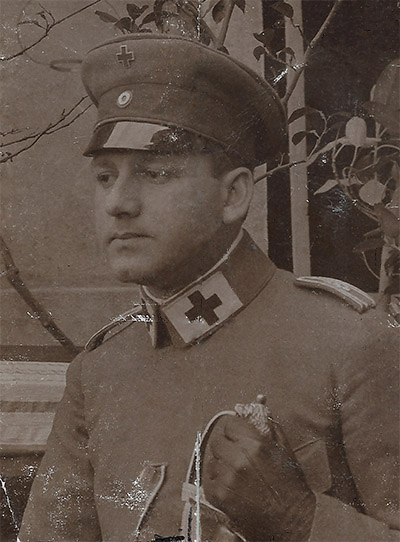 Dr. Feinstein, of the Red Cross.
Wearing a Red Cross uniform, holding a sword.
B'nai Brith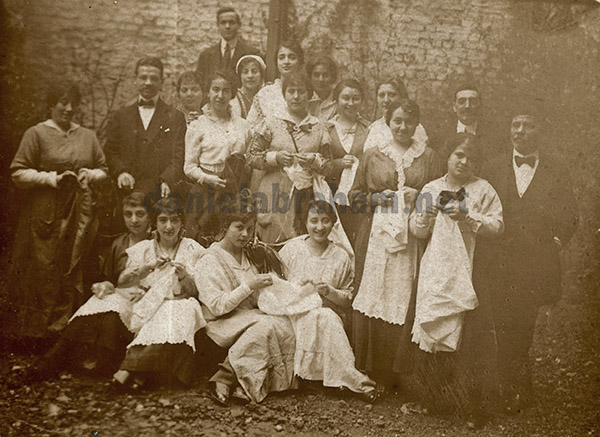 "Ouvroir des Dames du B'nai Brith" - B'nai Brith Ladies' Embroidery Club, Constantinople, 1916.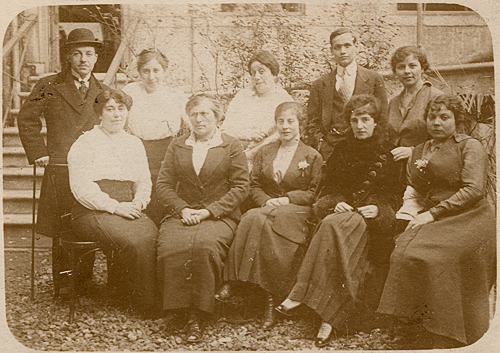 Comite des Dames du Bnei Brit (Ronya, standing, second from the left), 1917.
Jewish Community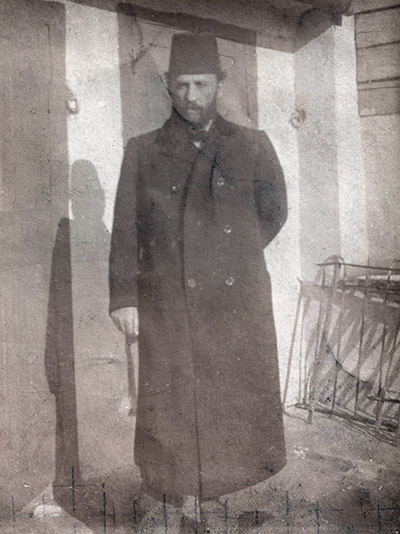 Rabbi Dr. David Markus (Marcus), date unknown.
Rabbi of the small Ashkenazi community of Constantinople, David Markus is mentioned in David Rimon's book "HaMaccabi Be'Artzot HaBalkan" (The Maccabi in Balkan States), p96:
Under the influence of a few Zionists who were in Constantinople at that time, the Jews launched an internal propaganda for nationalism and Zionism. Among these Zionist influencers [was] Dr. David Marcus, rabbi of the Ashkenazi community [...]
Moritz and Haim Abraham are mentioned in the same paragraph for their advocacy of Zionism after their arrival in Constantinople in 1908. I assume then that Dr. Markus and the Abraham brothers met through their common activism.
Social Circle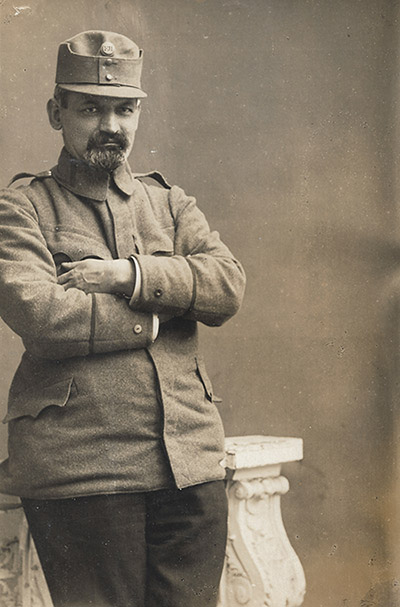 Dr. Baruch Kahane, 1917
Inscribed in the back in German: "To my dear Mr. Moritz Abraham and Mrs. Ronya, in memory of my military service during the Great War. Loschitz, May 1917."
Territorial Army. Rabbi Dr. Baruch Kahane. Imperial and Royal Army (kaiserlich und königliche Armee, or K & K), Regional Command #19, Loschitz (Moravia).
My father added the following information: "Professor at the Rabbinical Seminary of Berlin. Friend of the Auerbach family; [he was] where we went to celebrate the Passover Seder, where we [Uriel and his brother Gisi] would fall asleep, because it was very long. The meal was prepared by Frau Hase, his non-Jewish landlady who was conversant with all the Jewish customs and the complete ritual."