Name variation: Uly
1918 - 1919 - Constantinople
Uriel Abraham was born 26 October 1918 in Constantinople, the second son of Moritz and Ronya Abraham.
Four days later, the defeated Ottoman Empire signed the Armistice, marking the end of its participation in WW1. Constantinople was occupied by combined British, French, Italian, and Greek forces.
Although born in Constantinople, he was not a Turkish national, and never felt any connections with Turkey beyond a detail on his birth certificate. His father came from Bulgaria, his mother from Latvia, and he would settle in Germany at the age of three, before coming to France in his early teens.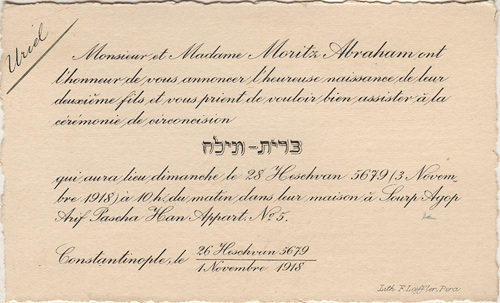 Birth - Brith Milah announcement, 1918.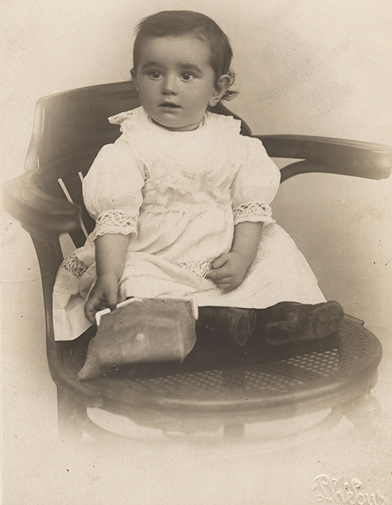 Uriel Abraham, 1919.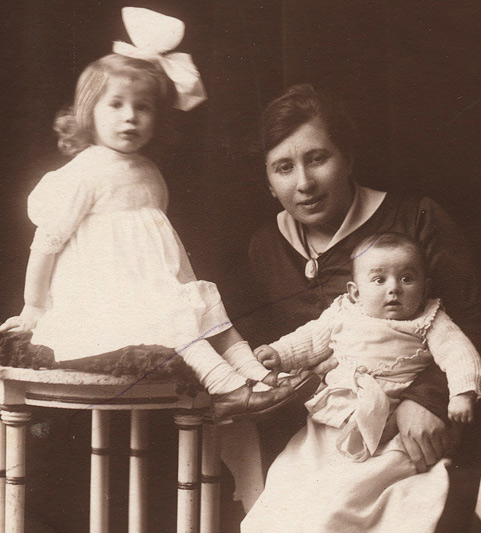 Gisy (with bow), Ronya and Uriel, Constantinople, 1919.
The fashion of the day was to dress up boys like little girls... So Gisy, Uriel's older brother wears a dress and a bow in his hair.
Uriel's childhood seems to have been a combination of material comfort and little parental warmth or presence.
The actual child-raising duties were handled by a nurse, Kitza in Turkey, then Frau Ewald in Germany, as Uriel's mother Ronya had other interests than handling babies - probably the norm for women in her world.
As for his father Moritz, he often travelled for business. Once the family moved to Düsseldorf, he would be away from home six months out of the year.
1920 - Berlin, Venice, Kolberg
Uriel started travelling at a young age. In 1920 alone, he went with his brother Gisy, his mother Ronya and their nurse Kitza to Berlin, Venice, Kolberg in the Baltics.
I'm assuming that the trips to Berlin were to see Ronya's sister Bertha, who lived there with Israel Auerbach and Lea.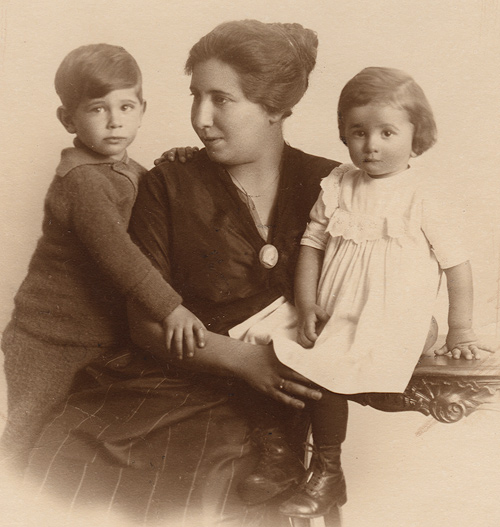 Gisy, Ronya and Uriel, Berlin, 1920.
A year later, it's now Uriel's turn to be dressed up like a girl...
The nanny Kitza, Uriel (with the bow), Ronya, Gisy. Venice, Italy, 1920.
Maybe while on their way to Berlin, Ronya and the children stopped in Italy for a short visit?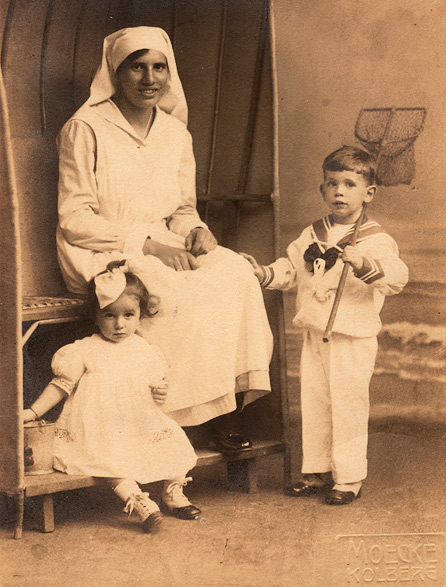 Uriel (dressed as a girl), Kitza the nanny and Gisy - Studio portrait, Kolberg, 1920.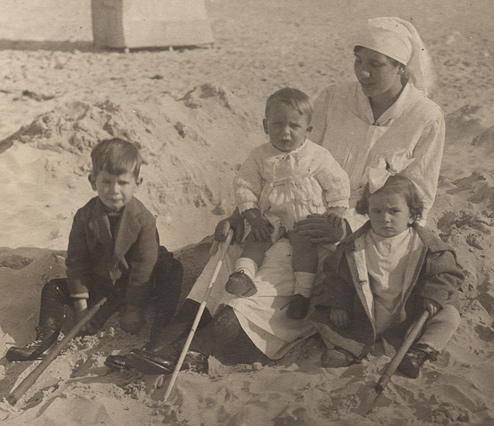 Gisy, Isy Mallah, Uriel and Uriel's nanny Kitza - On the beach, Kolberg, 1920.
This is an actual beach photo. But the children (especially Gisy) are wearing heavy shoes and a suit...
The Datnowsky sisters seemed to have been close, apparently spending summer vacations together in various resorts on the Baltic, from which the Abraham brothers seemed to have been absent.
Here, in the Kolberg resort, Uriel and Isy posed with their cousins Isy and Gadi Mallah, with their nurse Kitza.
1922 - Constantinople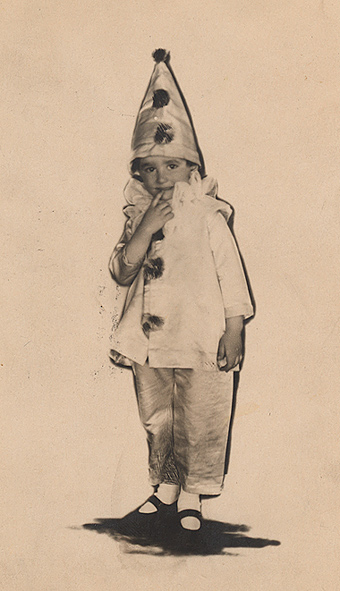 Uriel - Purim, Constantinople, 1922.
Back in Constantinople? Or ar the dates wrong?
1922 - Berlin
In early 1922, Uriel left Istanbul and moved to Germany with his brother and mother.
They would eventually reside in Düsseldorf, in a house built on the empty lot that had been bought on LindenmannStrasse, across from St Pauluskirche.
Until the house was ready for them to move in, Uriel, Gisy, Ronya and the nanny - Frau Ewald - lived in Frau Brockerhoff's boarding house, a guest house popular with artists and intellectuals in Düsseldorf.
They apparently also went to Berlin - maybe to see Bertha who might have moved back to Berlin by then?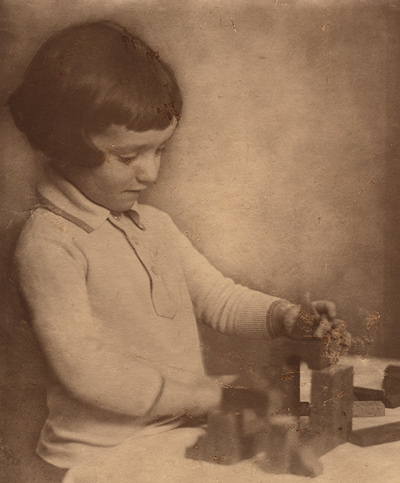 Uriel in Berlin, 1922.
The family also went to Thuringia the same year - although the reason why is not clear.
1922 - Thuringia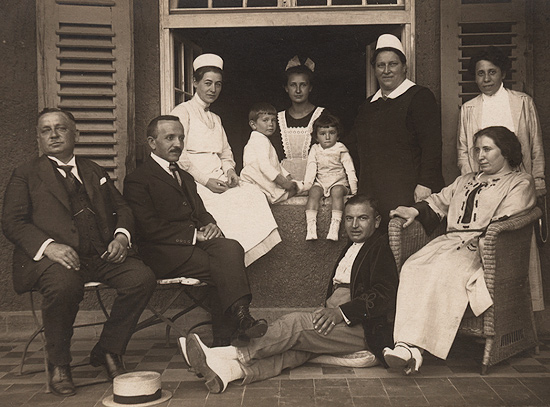 X, Ascher Mallah, nurse, Gisy, Elfriede (?), Uly, head nurse, X, Ronya (sitting), Bertha. Thuringia, 1922.
This seems to be a sanatorium - who was hospitalized? Gisy? or Isy's older brother? The extended family seems to be here: Medi is Mony Abraham's wife, Grischa is a cousin of Ronya, I don't know who Tania is, Ascher Mallah is Eva (Liska)'s husband.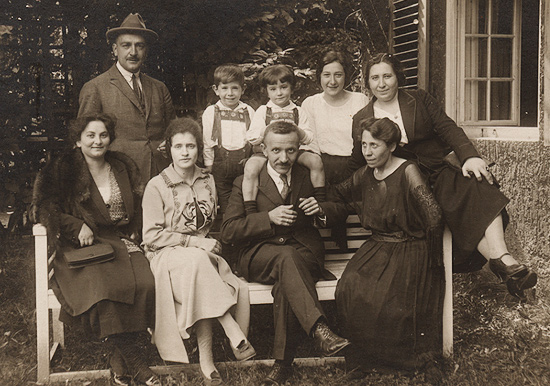 Front row: Medi, Tania (?), Ascher Mallah, Bertha.
Back row: Grischa Datnowsky, Gisy, Uly, Lea, Ronya.
Thuringia, 1922.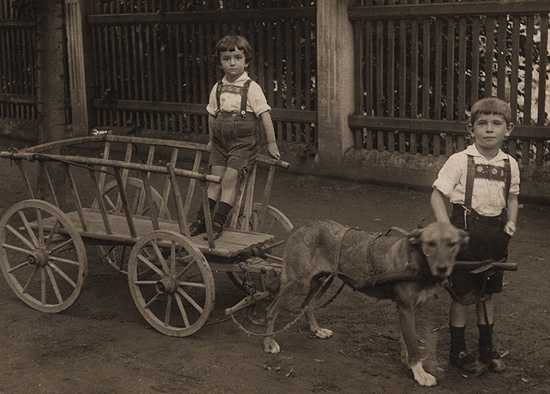 Uly and Gisy, Thuringia, 1922.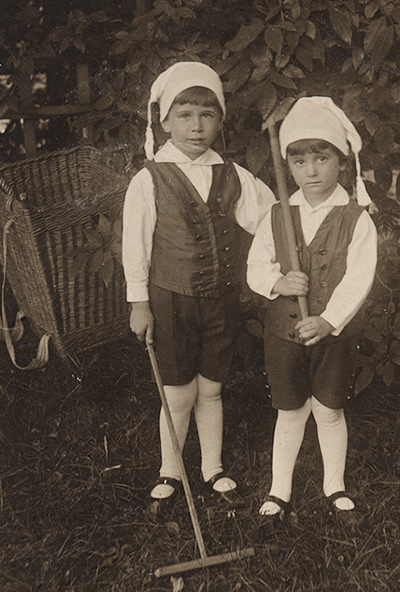 Gisy and Uly, Thuringia, 1922.
1923 - Godesberg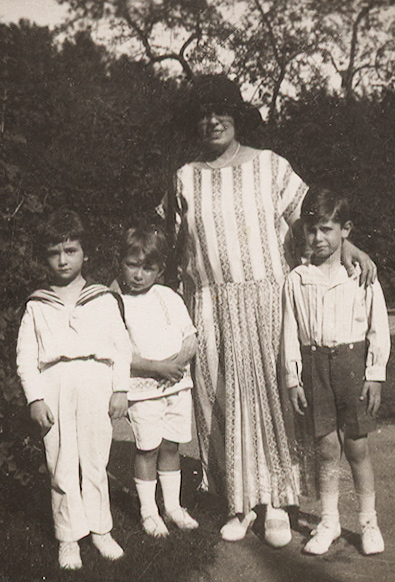 Uriel, Isy (Alex) Mallah, Liska (Eva) and Gisy. Godesberg, 1923.
Another vacation with the family, this time in Godesberg, with his cousin Isy Mallah.
1924 - Düsseldorf
My father mentioned that their nurse would take them to play in the church yard next to the house, but it was a secret and she wouldn't tell their parents.
From 1924 to 1928, Uriel atented the VolksSchule (elementary school) on BrehmStrasse in Düsseldorf.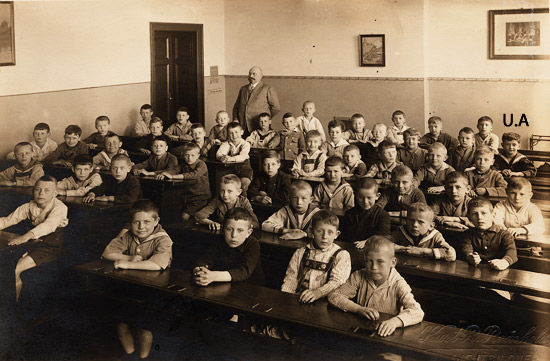 VolksSchule, BrehmStrasse Düsseldorf, ca 1924.
On this school photo ca 1925, Uriel is one of the rare children without blond hair.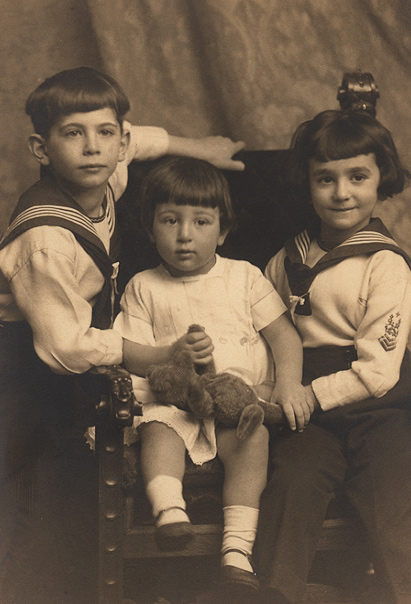 Gisy, Reni (adopted daughter of Mony and Medi Abraham) and Uriel. Düsseldorf, 1924.
1925 - Berlin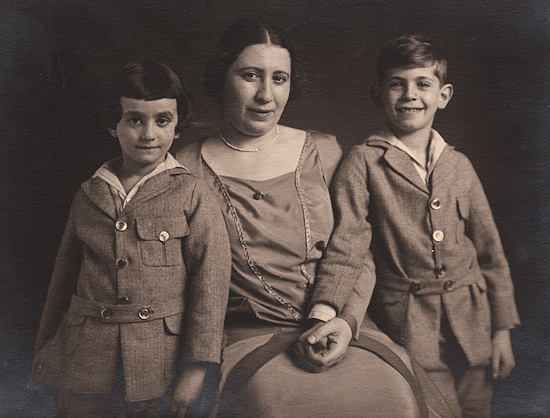 Uriel, Ronya and Gisy. Germany, 1925.
1925 - Düsseldorf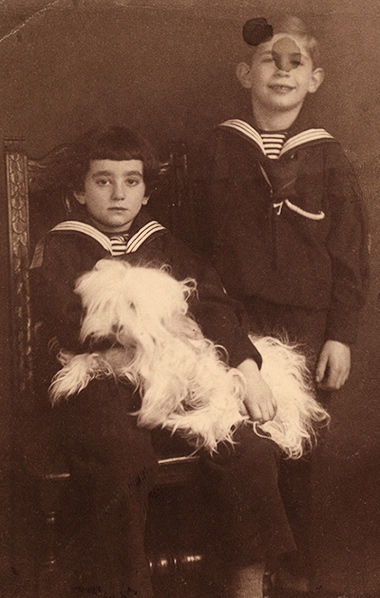 Uriel, Gisy and their short-lived dog. Düsseldorf, 1925.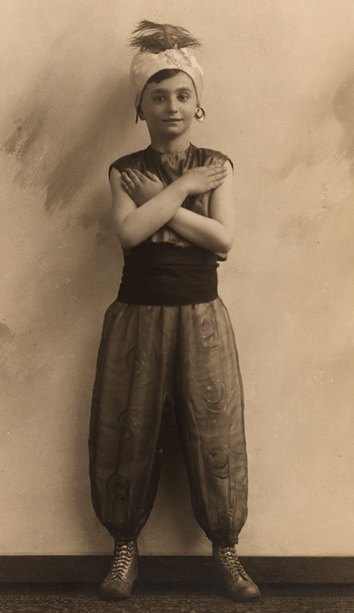 Uriel, Purim. Düsseldorf, 1925
The family maintained some Jewish traditions, as this Purim photo shows, but as a whole the family was probably very secular.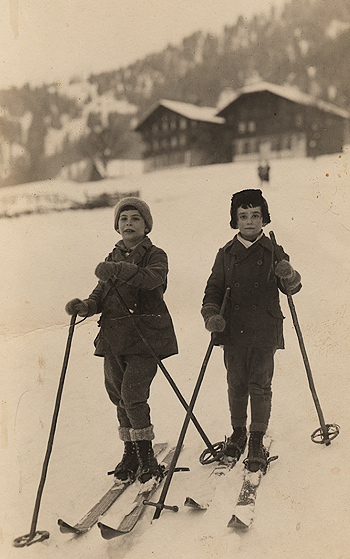 Uriel and Gisy, Adelboden - Switzerland, 1926
Ronya and the children went on vacation - skiing in Switzerland in the winter, to various Baltic resorts in the summer.
1927: Postcard from Godesberg.
1928
Around 1928, Uriel was tutored in Hebrew by Dora Diamant. Best remembered as Franz Kafka's lover, she was a struggling actress and was studied acting in Düsseldorf.
Uriel mentioned that she had been his private Hebrew tutor, I assume to prepare for his bar-mitzvah. He recalled that his mother supported her financially.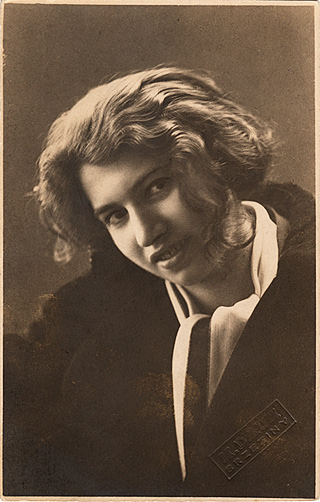 Dora Diamant, Düsseldorf, 1928
This photo was given to Uriel's mother Ronya. Uriel's caption reads:
"Dora Diamant - Düsseldorf 1928
Companion until his death of Franz Kafka.
Actor student at "Schauspielhaus" in Düsseldorf.
Protégée of Ronya Abraham.
Gave Hebrew lessons to Uriel."
1929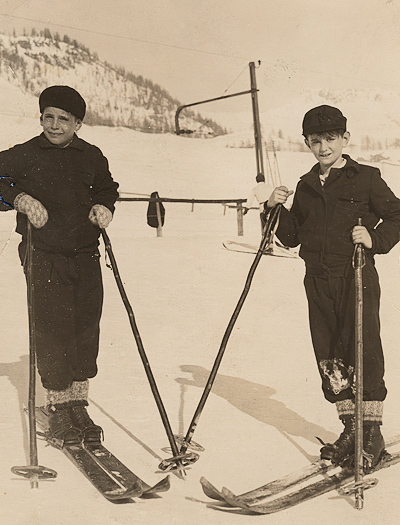 Uriel and Gisy, Celerina Grisons - Switzerland, 1929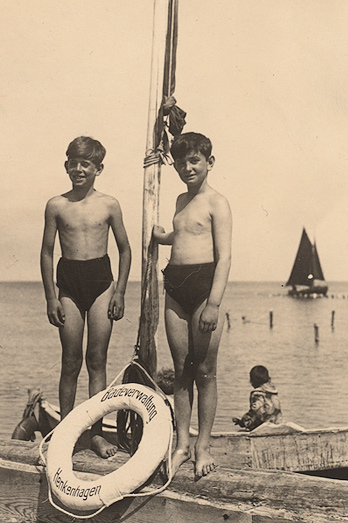 Uriel and Gisy, Henkenhagen - Baltic, 1929
1929 is the last year for which there are vacation pictures.
1929 is also when Uriel (and his brother Gisy) started to go to a school in Berlin. Was it a boarding school? Was he staying with Bertha? Or had the family moved to Berlin?
Did this correspond to the beginning of financial problems?
Berlin, 1929 - 1930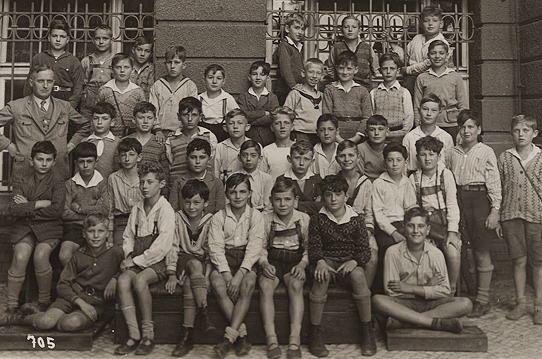 Uriel, Goetheschule, Berlin, 1930
Uriel is second from the right in the front row.
Some of the children's names: Horowitz, Teppich, Heymann, Arendt, Berliner, Soskin, Mayer, Minz, Wachsman... The other half of the boys have blond hair and wear lederhosen.
Düsseldorf, 1930
Uriel and Gisy, Düsseldorf, 1930
On this photo, Uriel is back in Düsseldorf with his brother. Maybe they were still based in Düsseldorf, but had gone to a boarding school in Berlin - or attended a boarding school in Berlin but came back to Düsseldorf for vacations?
Changes
The story as told by my mother is that one day, Moritz came home saying "it's over, it's all gone" - apparently all the money had been in the stock market (or paper) and his fortune was wiped out instantly.
I suppose things had to be more complicated - for example, was the company Abraham Freres not operating anymore? or struggling?
Regardless of the exact circumstances, it seems that it was the end of an era for the family - not only would their former lifestyle become a thing of the past, they would soon leave Düsseldorf and move to Paris.
The connection between the fortune reversal and the move to Paris is not clear. Probably the best explanation is that Ronya's sister Bertha lived there and could offer some help.
Paris
Uriel was eleven years old when he left Düsseldorf and came to Paris. The move was a big change - not only did he come into a new world, he also traded the life of wealth he had known since childhood for a more restrained lifestyle. At one time his mother had been extravagant enough to employ five servants in their house, now the family would be living in several small sublets.
Uriel had apparently learned French in Germany, he seemed to be perfectly fluent soon after being in Paris.
At first, the family seemed to move to live in different places, although always in the 16th arrondissement: rue des marronniers, Bld Exelmans, then rue Erlanger. These were probably sublets.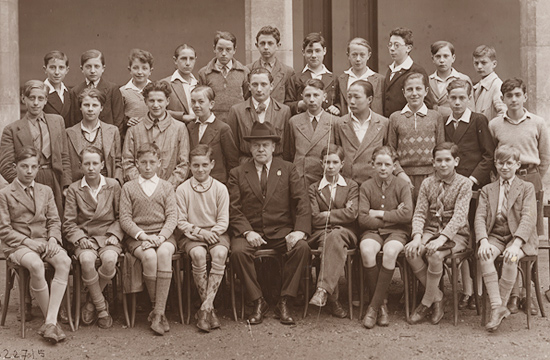 Uriel, Lycee Lakanal, 1931-1932. Second row, right.
Uriel attended the Lycee Lakanal boarding school of Sceaux between 1930 and the summer of 1932, in the southern suburbs of Paris. Was he sent there because many foreign and emigre students also did? Or was it simply more convenient to have him be in a boarding school?
There were a number of immigrant students - Vietnamese, Germans, and in particular White Russians who had escaped the Soviet revolution.
One boy told of the violence and the misery of the red revolution, repeating stories of desperate populations turning to cannibalism out of starvation, and Uriel who was sympathetic to the Socialist party SFIO accused the boy of being a liar. Many years later he realized the boy was telling the truth and he still felt guilty of having refused to listen to him.
Around 1931, Uriel did his bar-mitzvah. He told the story of how his mother had taken him to the big department store to get a costume for the ceremony, costume she returned afterwards...
In April 1932, the family moved once again, this time boulevard murat, still in Paris 16th.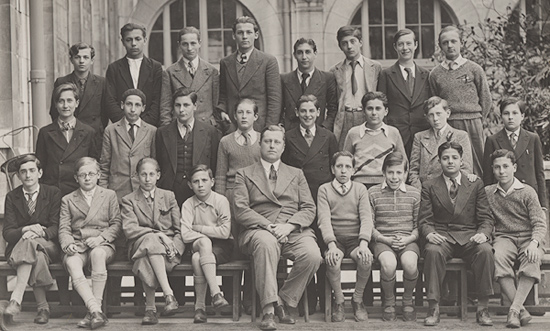 Uriel, Lycee Janson de Sailly, 1934-1935
In Janson de Sailly, classe de 2eme B. A large number of the boys have foreign names, many Russian or Jewish.
Uriel's grades are excellent - out of a class of 40 students, his worst subject is French (9th out of 40), otherwise he has the 1st place in history, 2nd place in German, English and Math, and 3rd in Physics and Chemistry.
Gisy
In July 1934, Gisy, Uriel's brother, disappeared in the Alps. The official story was that he was lost in an avalanche. He was seventeen. Uriel was very affected by the loss, and never talked about what happened, or even mentioned his brother's name.
In the fall of 1934, Alex (Isy) Mallat was sent by his parents from Salonika to study in Paris. He went to Janson and stayed with Uriel over the weekends.
At the end of 1935, the family's address changes once again, they are back rue des Marronniers - probably subletting an apartment that belonged to a relative (Ascher Mallah?)
According to Alex Mallat, it's a "charming apartment, with a back door opening to rue des vignes."
In 1937, Uriel receives his baccalaureate ("Bac B-Philo mention")
His mother Ronya encourages him to pursue a career in graphic design, thinking it would be a good career for him, or simply believing that he has a "natural ability" for it.
In 1938, he became a student in l'Ecole Paul Colin, where he would study until Spring 1939.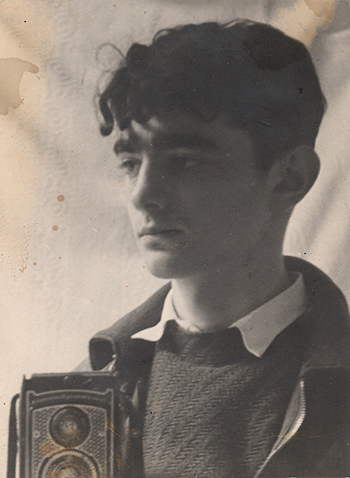 Uriel, self-portrait, 1935-1938
Uriel also studied photography, taking classes with Josef Breitenbach, and working in his studio and lab, shooting, and doing processing and printing work. His involvement with Breitenbach dates from at least 1935, as a print of a Breitenbach photo is inscribed "My Lieben Abraham, 3 Oktober 1935."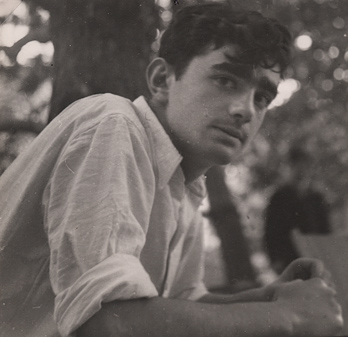 Uriel, 1936-1939
In the fall (or winter?) 1939, the family moved once more, this time Rue de Lubeck - as always in the 16th Arrondissement.
In November, Uriel was found eligible to join the French Army, but was not drafted. (However he still held a Spanish passport - Were foreigners called into the French army? Wouldn't he have been drafted with the Foreign Legion?)
Indeed, in December, he requests an National ID card which allows him to reside in France as a student, but not hold any occupation, as he is a resident alien.
WWII
In May 1940, Germany invaded France.
On June 3, 1940, the Germans bombed Paris. Eight million French people created a mass exodus trying to flee the advancing army, including more than half of the Paris population.
During the June debacle, the Army ("l'état-major") retreated to Montauban, before blowing up the bridges on the Loire.
Uriel said that after the German invasion he went to the army barracks in Paris to enlist. The soldier on guard told him that the army had been redeployed. When he asked where the army was, and where should he go to sign up, the officer replied he had absolutely no idea...
He said that "...Right then, knowing the Germans and their organization, I understood that it was over, France had lost the war."
He went home and told his parents they all needed to leave Paris immediately. His parents refused to leave, and he decided to flee alone, leaving them behind.
Uriel later said he had fled on a bicycle, and that getting to the South of France had only taken "a few days".
Once he reached the Mediterranean coast, he tried to find a boat to flee the country.
Along with a few other people he had met on the harbor (in Marseilles? or Nice?), he tried to find a place aboard a boat sailing to England, but found that the rare spots were given to high-level people from the army or the government, the nucleus of the future Free French.
Eventually, he understood that he wouldn't be able to get to England. Running out of options, he finally decided to take any boat, regardless of the destination. Eventually, a boat going to Casablanca materialized, and Uriel fled France in the Summer of 1940.
Casablanca 1940 - 1944
Uriel arrived in Casablanca in July 1940, probably around July 19th, as on that day he sent a postcard to his parents stating: "Write to me P.O. Box, Casablanca."
He found a place to stay with the Benaim, a Jewish family who lived 2, rue de l'Oise, Casablanca. He lived there in a small room on the first floor. (Another address is given as 4, rue de l'Oise; It's not clear if he lived in both locations at different times, or one was a mistake.)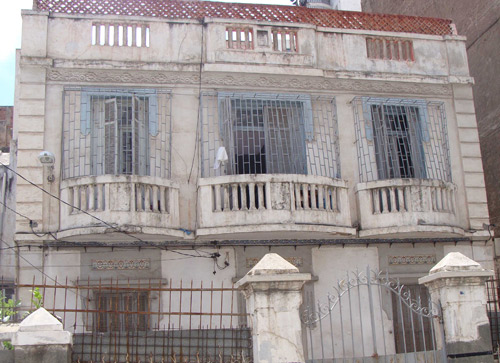 Former Benaim house, 2 rue de l'Oise.
(Photo courtesy of David Benaim)
Benaim David (2009):
"(My father's) little sister Flora (born 1935) remembers your father, but she doesn't have details to tell. She remembers that he lived in one of the rooms in their home, he had a friend (she doesn't remember his name) who lived not far. She doesn't remember where he came from, or why, or what he did there, she was 5-9 years old. Uriel lived the first floor, in a little room."
In September, he received a letter of recommendation from famed photographer Josef Breitenbach, certifying that Uriel had taken photography classes with him, and had worked in his studio and lab. This suggests that six weeks after his arrival, Uriel was now looking for photography-related work and planning to stay in Casablanca.
Bou Arfa (Bouarfa)
The Vichy authorities in Morocco had decided to incarcerate "undesirable foreigners" in forced labor camps: former Spanish Republican fighters, anti-Nazi Germans, Communists, Socialists, Gaullists, French and foreign Jews. Moroccan Jews were not interned there as they were protected by King Mohammed V.
People interned in these camps were grouped into "Foreign Workers Battalions" where they were used as forced laborers.
In October 1940 Uriel was thus arrested by "la Police Speciale de Casablanca". As a foreign Jew, he was a prime target for the Vichy police. It's also possible that his holding a Spanish passport made him even more suspect in the eyes of the authorities who were rounding up former fighters from the Spanish Republican army.
Uriel was first incarcerated in Sidi El Ayachi, an internment camp for foreigners. He was then sent to the Bou-Arfa labor camp in December.
Officially described as a "gathering center for foreigners" ("Centre de rassemblement pour étrangers, Groupement de travailleurs étrangers"), Bou-Arfa was the largest forced labor camp in Morocco. Located in the Sahara desert, 50km from the Algerian border, it was a French internment center for foreign subjects who were considered potential risks to the Vichy regime.
Located in a mining area (manganese), next to a train line, Bou-Arfa was also a launching pad for the Trans-Saharan train line. Prisoners interned in the camp worked repairing the existing train line, and built the next section of the Trans-Saharan railway - leveling dunes, clearings rocks, laying tracks.
By 1942, over 800 prisoners would be interned in the camp, sleeping in tents holding 8 to 10 men. About 80% of the men interned seemed to have been former Spanish Republican soldiers.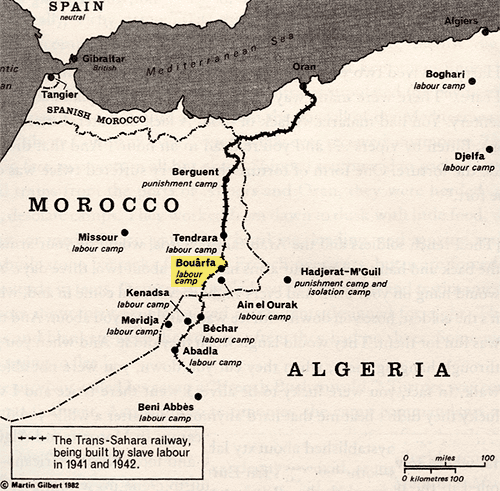 Forced Labor camps of Sahara, 1941-1942 (Martin Gilbert - The Routledge Atlas of the Holocaust)
Uriel was incarcerated with the "9eme compagnie de Travailleurs Etrangers." (although the "4eme Groupement de Travailleurs Etrangers" is the one usually documented for this camp - is this a mistake?)
Conditions in the camps are often described as having been extremely harsh for the labor conscripts working on the railroad, with some describing Bou-Arfa as "one of the worst camps." However, according to Uriel, the camp was "nothing at all like the German camps in Europe".
Uriel also mentioned that it had actually been more of a preventative measure designed by King Mohammed V to protect Jews: by incarcerating them, he was in effect removing the excuse for Vichy to step in.
Although Uriel's description should at first be taken at face value, there are a couple of problems with it.
- Concerning the internment being a way to shield French Jews from falling into the hands of Vichy, it seems that Uriel may have been giving undeserved credit to the King, since the internment camps did not fall under the king's control, but were under the exclusive control of the French army. It is possible that Uriel was simply repeating what was said later about King Mohammed V, who did indeed try to protect Moroccan Jews.
- Concerning the benign conditions compared to places like Auschwitz, Uriel was certainly grateful he hadn't experienced the German concentration camps, and appreciated his luck compared to the fate of European Jews in the Shoah.
That being said, Uriel, a man of few words, was notoriously discreet and refused to sound heroic. It would have been very much in his character to minimize what he had gone through. He probably didn't want to dwell on his incarceration and "traumatize" his children.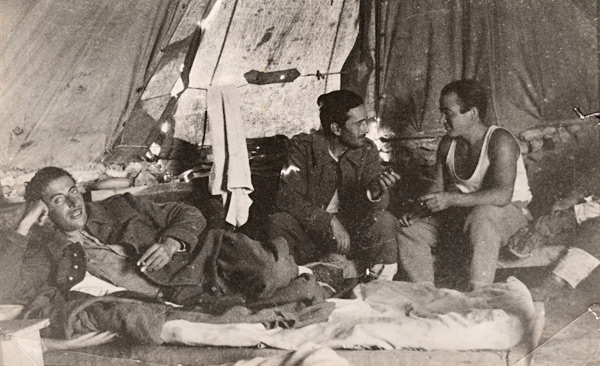 Bou-Arfa, 1941: Zambrana de Toledo, X, Antonio Sanchez (*) (from Aranjuez)
From his stay in Bou-Arfa, Uriel brought back a single artifact, this photo showing three men relaxing in the camp under a tent. By its mere existence, this photo is very revealing, for example by showing conditions in the camp, but also raises a number of questions:
The fact that a detainee could take a photo inside the camp indicates that the conditions of incarceration at Bou-Arfa were nothing like the German prison camps where one would have been stripped of all personal belongings. Indeed, several photos of men detained in Bou-Arfa can be found online. Moreover, a look at the three men on the photo reveals that they are not wearing prison uniforms but civilian clothes. They are shown relaxing, even smiling.
Was Uriel the photographer? This might suggest that he shared a tent with the men on the photo. He only remembered the first name of one man, and the city of origin of another, indicating that they weren't very close. If Uriel was the photographer however, how to explain that this is the only photo that survived in his collection? If he had been able to bring a camera and film with him in the camp, he would have taken more than a single photo from his stay.
It is thus possible that Uriel wasn't the photographer. However he knew these men since he remembered some of their personal information, so we can assume that he shared a tent with these men. Maybe a common friend gave him the photo, possibly after their release and/or escape?
Since we have to assume that the photo was not processed in Bou-Arfa - it's very unlikely the men interned there were able to process film, or had access to processing labs in the desert - it's much more likely that this photo was enlarged later, for example in Casablanca when Uriel worked in the Pollack photo lab.
In April/May 2015, the son one of the men appearing in the photo contacted me after having recognized the man described as "Y from Aranjuez" as his father. He too owned a copy of the photo, which further suggests that this photo was processed at a later date, probably in Casablanca in or after 1942. For this to happen, the man who took the photo (whether my father or a third party), Uriel and Antonio Sanchez must have been in contact and met in Casablanca after leaving Bou-Arfa.
Regarding his father, here is what his son had to say:
Antonio Sanchez came from Aranjuez and fought during the Spanish Civil War with the Republican Army. After the collapse of the Republicans, he left Spain and arrived in France as a political refugee. There, he was incarcerated in three different internment camps, escaping from the third one. He then made his way to Brest in the North of France where he boarded a ship for Casablanca as a stowaway. At his arrival in Morocco, he was arrested by the Vichy French police and interned in Bou Arfa. While in the camp, he worked on the construction of the railway line. He remained in the camp until its liberation by the American army in 1942. After leaving the camp, he worked for the Americans as a cook.
It is possible that, in the beginning, life in the camp was somewhat tolerable, but that conditions later worsened; it is possible also that the concern grew that conditions would worsen - they would maybe be handed to the Germans.
Whatever the exact reasons or situation, Uriel decided to escape from the camp.
His first attempt was unsuccessful:
He had managed to get out of the camp with a fellow prisoner, a German refugee (a Nazi opponent). They hid under a train, on the axle, but after moving a little, the train stopped in the middle of the desert. Afraid they would be stuck there all night and then be discovered, they decided to sneak back INTO the camp.
In June 1941, his second attempt was more successful. This time he went on his own. My mother said that
"The security was pretty lax to say the least: the gate of the camp was open, so he just walked out without turning back or hesitating, looking assured, and never went back."
This description of a low-security labor-camp seems very strange - however online testimonies do mention that the camp was not hard to leave - the desert was supposed to be what would keep the prisoners.
I don't know how he actually crossed the desert after leaving the camp, but I imagine he again took advantage of the proximity of the train line and was luckier this time.
After escaping from Bou-Arfa, Uriel somehow made his way back to Casablanca. How, and how long it took is impossible to guess. Bou-Arfa is almost 600 kilometers (335 miles) from Casablanca as the crow flies, the actual land distance then, with limited roads and railroad must have been at the very least 500 miles if not more.
How could he travel so far without being arrested? Did he have any money after spending six to eight months in captivity?
Bou-Arfa postscript
After the war, Uriel would be registered with the "National Association of Deportees and Interned Resistants and Patriots", based on his time spent in the Bou-Arfa labor camp.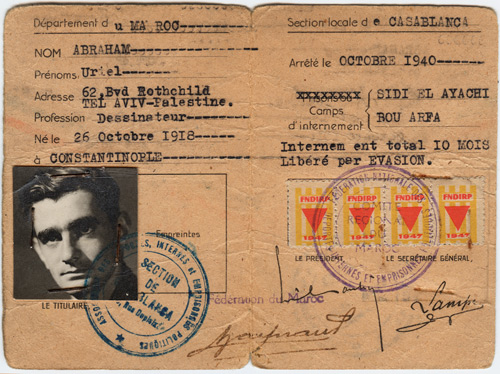 "Federation Nationale des Deportes et Internes Resistants & Patriotes" - 1947
Right after returning to Paris in 1949, he requested a certificate from the department that had been responsible for his arrest:
Monsieur le Commissaire de la Police Speciale, Casablanca

"(...) I would be very obliged to you for sending me a certificate attesting (?) that I was arrested by your services in Casablanca in October 1940 and incarcerated in Bou-Arfa until June 1941, at which date I escaped from this camp. (...)"
However, in 1958, his application to be recognized as a political prisoner was turned down by the French government - he was thus denied any compensation.
In 2005, Germany finally agreed to provide compensation for survivors incarcerated in labor camps in Morocco...
In Hiding
It's not clear what happened after his escape. Eventually, Uriel made his way back to Casablanca, and again lived with the same Jewish family (the Benaim) he had stayed with before his arrest.
Uriel was now hiding - a foreign Jew and an escapee from a labor camp. It seems incredible that he went back to the same location and felt it a safe enough place to be hiding with a Jewish family. Although Jewish, his landlords were still protected as Moroccan citizens.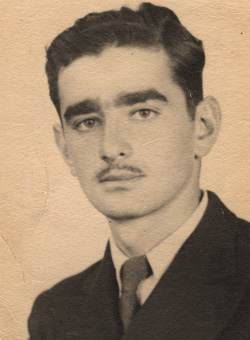 Uriel, Casablanca 1941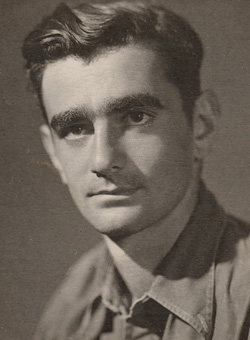 Uriel, Casablanca 1941
1942
In October 1942, he acquired a Resident Alien ID card with a fake identity to dissimulate both his real name and his Jewish origins.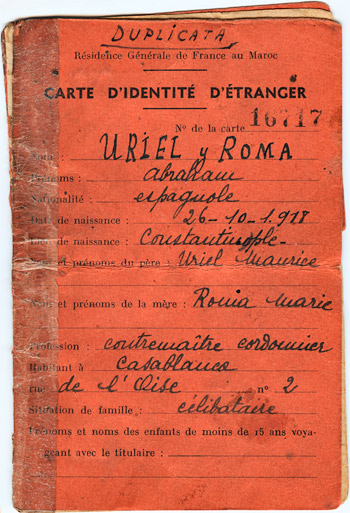 Fake Resident Alien ID, 1942
Last Name: Uriel Y Roma
First Name: Abraham
Father's Last and First Name: Uriel Maurice
Mother's Last and First Name: Ronia Marie

Profession: cobbler foreman
Not only was this ID using a fake name, the card itself had been tempered with - rather crudely. Close inspection of "Roma" shows that the letter "M" was retouched, and that a line had been added with a darker ink, changing "Ronia" into a more Christian "Roma".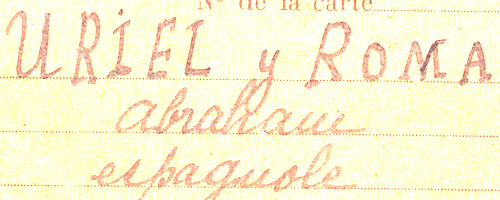 Forged name on Resident Alien card, 1942
The forgery was rather crude and could probably be discovered if one took the time to scrutinize the document. Moreover the modified name didn't even match his mother's name as it appeared a few lines below.
On November 8, 1942, the American army landed in Morocco, entering Casablanca on November 11 (operation Torch).
The American landing however didn't put an end to Vichy's rule and its anti-Jewish laws, as "the Americans had reached an agreement with the Vichy leadership in Algiers, which gave the Anglo-American forces free passage through the French-controlled territory in exchange for continued recognition of Vichy French sovereignty over France's North African possessions." (Robert Satlof)
Arrests of Jews continued in Morocco, and racial laws were only abolished in March 1943 after the Gaullists came to power.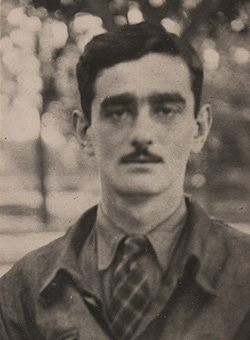 Uriel, Casablanca 1942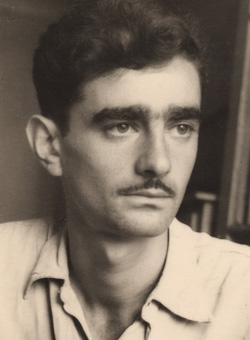 Uriel, Casablanca 1943
Around that time, he met a Spanish Republican who had fled from Spain after 1936 named Carmelo. Together they try to make money by manufacturing sandals out of tires...
From December 1, 1942 to December 12, 1944, Uriel worked in a photo studio - "Photo Paul, 40 rue Blaise Pascal, Casablanca", as a photo technician, doing processing, retouching and assistant work.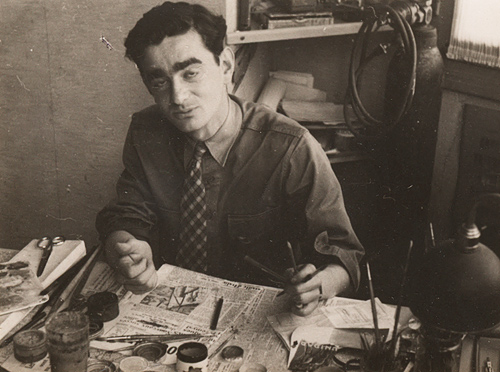 Uriel, Casablanca 1943 - Graphic designer
He also seems to have worked with Charles Gabay doing graphic design work.
Uriel once commented on the movie "Casablanca", saying it was a Hollywood fantasy which didn't show how life actually was during the war. In particular, he explained how people didn't mix - for instance, Europeans didn't mix with the local Arabs.
He didn't eat Arab food like couscous for instance, but instead went to little European restaurants that served French-style food - "ragouts" etc.
He did mention that he once tried the local "kif" which was legal in Morocco and was sold in every tobacconist - he claimed that it didn't do anything and never tried again.
In his case, his social circle seems to have been essentially made up of Jews, mostly European emigres who like him were stranded there temporarily.
Mittelman ("Mittel") a German Jew, who later moved to Nice in the South of France and remained a friend of the family until his suicide in the 70's)
Paul Pollack, the photographer he worked with - a Hungarian Jew who later emigrated to Canada
Charles "Gab" Gabay, a graphic designer - another Jew, although he may have been from Casablanca originally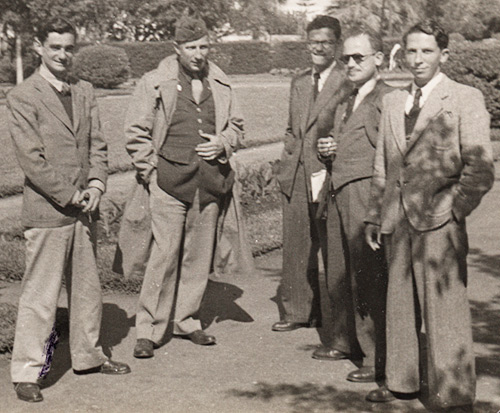 Uriel and friends: Donald X from the US army, Harosh, Paul, Mittelman. Casablanca 1943.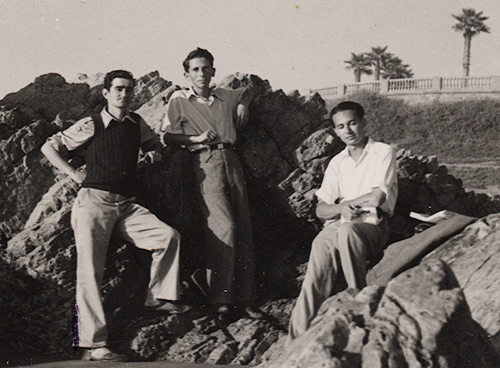 Uriel, Charles Gabay, Mittelman. Casablanca 1943.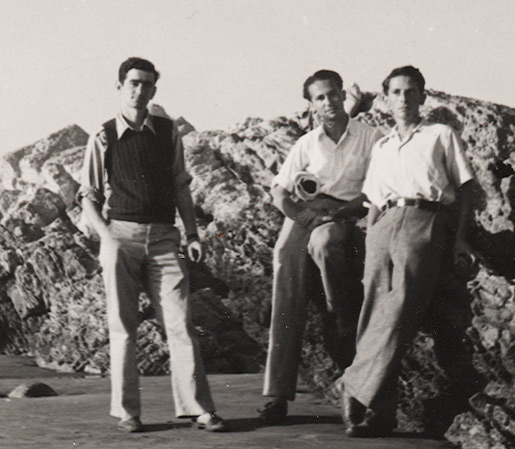 Uriel, Charles Gabay, Mittelman. Casablanca 1943.
Probably his only non-Jewish friend, Carmelo was a Spaniard with whom he had several business ventures. At first they made sandals from rubber tires. Later, right after the operation Torch landing, they organized a laundry service for the American GI's, with local Arab women doing the actual wash... After the US army got settled and started to bring in their own washing machines, this business died out...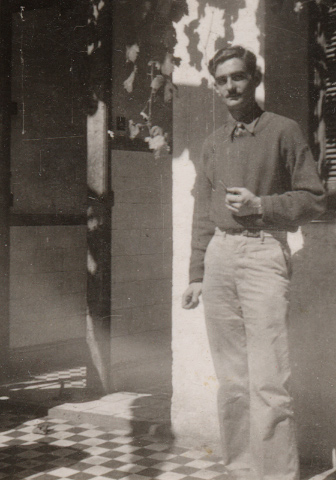 Uriel, Casablanca 1943 - "To Dear Mom"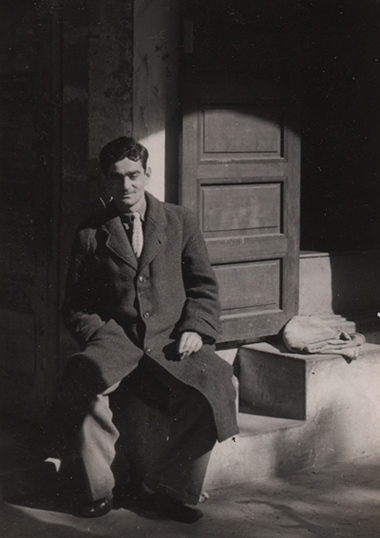 Uriel, Casablanca 1943
1944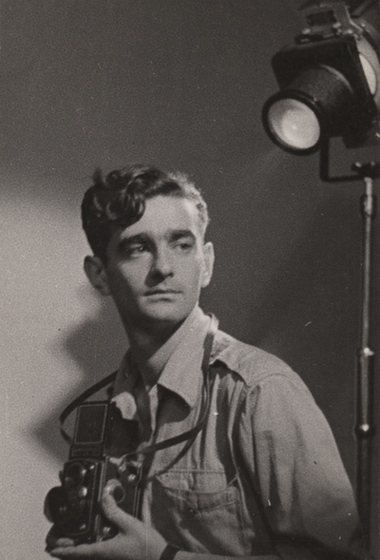 Uriel, Casablanca 1944 - Studio Paul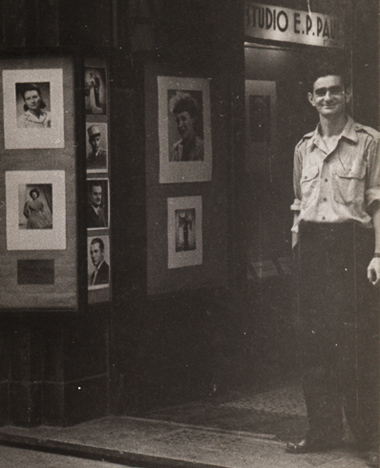 Uriel, Casablanca 1944 - Studio Paul
In Februray 1944, Ronya, Uriel's mother, left Spain where she had been a refugee since 1943, and came to British-controlled Palestine.
By then, although the war would still go on for another year, the end was finally in sight. With Morocco under control of the Free French, Uriel didn't need to hide anymore anymore - for him at least, the war was pretty much over.
In June 1944, Uriel made arrangements to go to Palestine, and received a safe-conduct and travel documents from the Free French and Allied military authorities.
Finally, six months later, he left Moroco. He crossed the border at Oujda on December 12, arrived in Algiers on the 16th, then, on December 23, 1944, flew from Tunis to Cairo.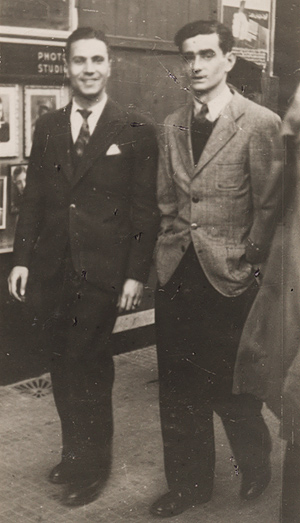 Uriel, Cairo, 1944
Israel - 1944-1951
Uriel arrived in the port of Haifa on December 29, 1944.
His ID card issued by the British Authorities declared him to have green eyes (!), and of course, "Race: Jewish".
At first Uriel lived in Asher Mallah's law office in Tel-Aviv, on the edge of Jaffa.
Uriel had become friend with Alex Neuhoff, the son of a refugee couple Ronya had met in Spain and who had come to Palestine on the same boat.
Alex Neuhoff:
"Uriel asked me if I would be interested to live in a room in a small concrete house, one floor with a terrace. The office, this little house had just two rooms, it wasn't luxurious, but it was fine - it was quiet.

The terrace was really precious because nights were incredibly hot: at night, we'd bring a mattress upstairs and we slept on the terrace, otherwise the heat was unbearable.

Around 45, 46, that's when gunfights started between Jews and Arabs - sometimes there would be gun shots during the night."
"We stayed there about a year I suppose, in the house/office of Mallah. We slept there during the night, and in the morning we had to leave, because Asher still worked there. We couldn't touch any of his stuff. We jus had a bed, a sort of couch, where we slept.

Around 45, when Greece was liberated, Asher and Liska Mallah left Tel-Aviv to return to Greece (or France?), and they said Uriel couldn't stay in the office anymore.

Afterwards, we went to live in the appartment Rehov Rothschild." (62 Rothschild Bld - one version has 37 bd Rothschild).
At the time, Hebrew was not required. New immigrants - like Uriel or me, spoke their own language - French, or German.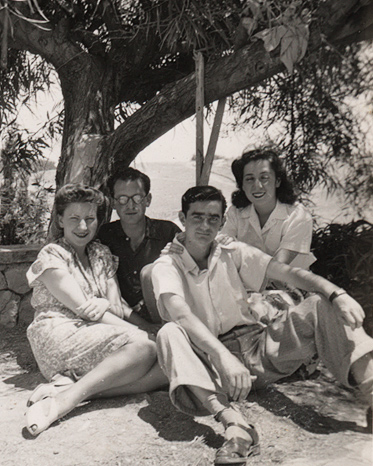 Uriel and Bitia, Talpioth, Israel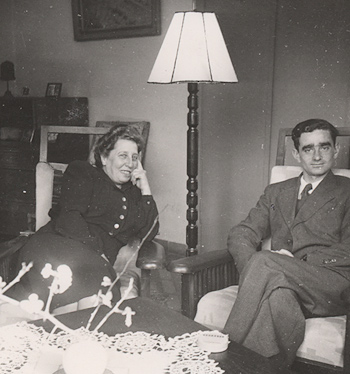 Uriel and Liska, Israel - 1947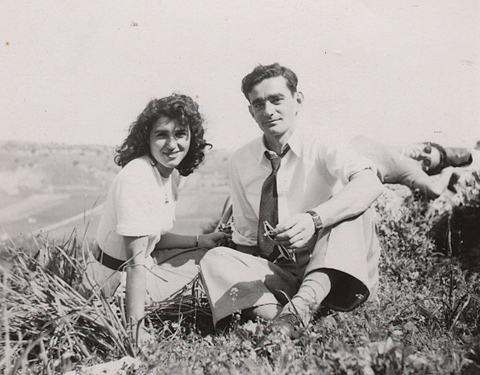 Uriel, Zichron Yaakov, Israel - 1947
On a temporary visa application dated November 10, 1947, Uriel's address was listed as:
15 George Eliot Street, Tel Aviv
His occupation: Designer, and his nationality: Spanish.
At that time, Uriel worked for an Italian architect, Ugo Gnagnatti (Anati)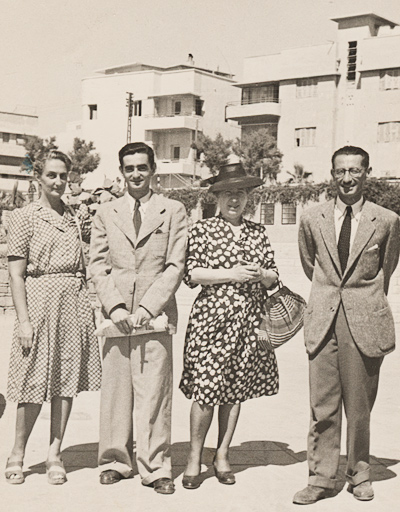 Uriel, Ronya with Elsa and Ugo Anati - 1945 or 1946
According to Alex Neuhoff:
"This man (Anati) wanted ot commercialize products from Italy which had just been liberated, or almost... He wanted to import modern Art objects made in Italy, and he needed someone to handle his office, he wanted someone who would have some artistic knowledge."
Uriel was very impressed by the wife of Ugo Anati - especially how she raised her children: they were allowed to climb over the furniture and do as they pleased, which was very different from how he had been raised - he thought it was fantastic!
So Mr Anati ran his import business a little bit the way he raised his kids, in other words it was a bit crazy, and Uriel loved that. He really admired how he did things.
Then (around 1947?) Alex introduced Uriel and Toni, who was then married to a cousin of his. (A cousin on his mother's side - Rovinski - Alex' mother's maiden name was Oistrach - related to David Oistrach)
They would all meet on the beach, they would play ball - that's how they met.
1948
Uriel joined the Hagannah in April 1948, one month before the begining of the war. He was apparently not sent to the front lines, but instead served in the rear designing defense shelters until the end of the hostilities in 1949.
Uriel in the Hagannah - 1948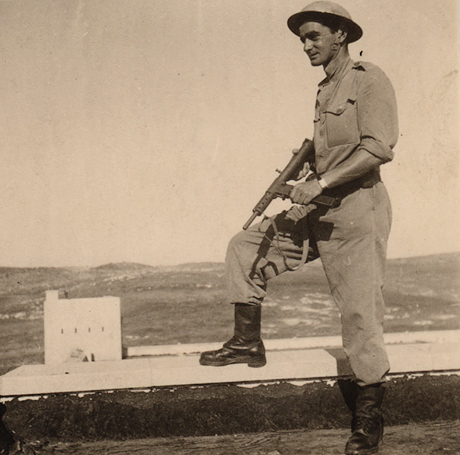 Uriel in the Hagannah - 1948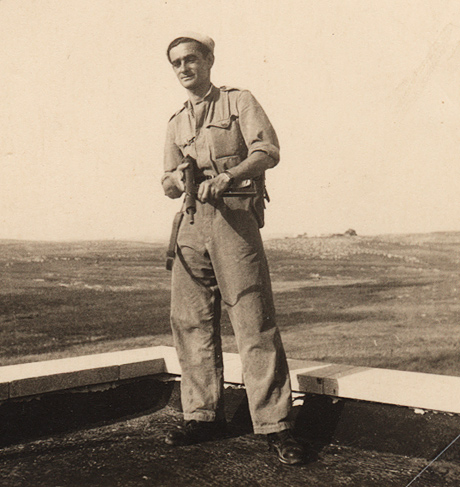 Uriel in the Hagannah - 1948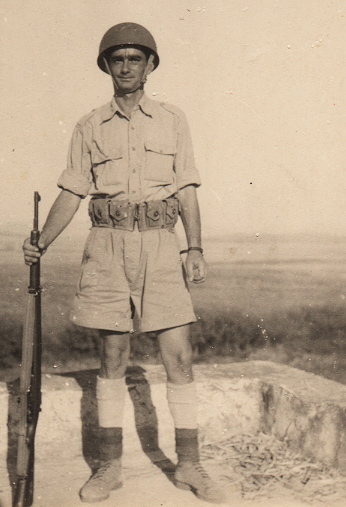 Uriel in the Hagannah - 1948
I once asked him about these photos - he said he was just playing, posing for the pictures.
Scrapbook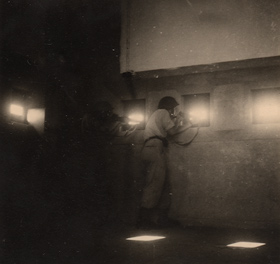 Hagannah - 1948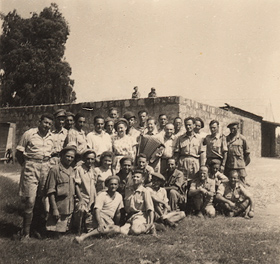 Hagannah - 1948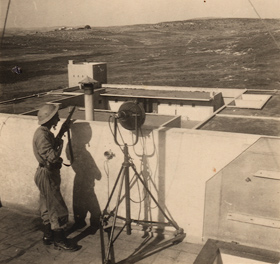 Hagannah - 1948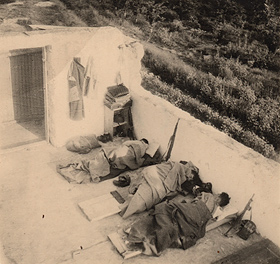 Hagannah - 1948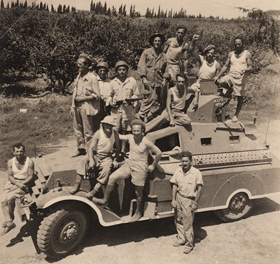 Hagannah - 1948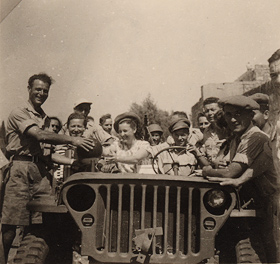 Hagannah - 1948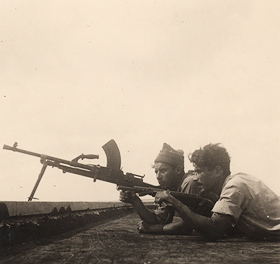 Hagannah - 1948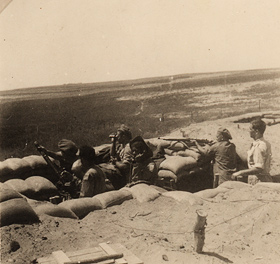 Hagannah - 1948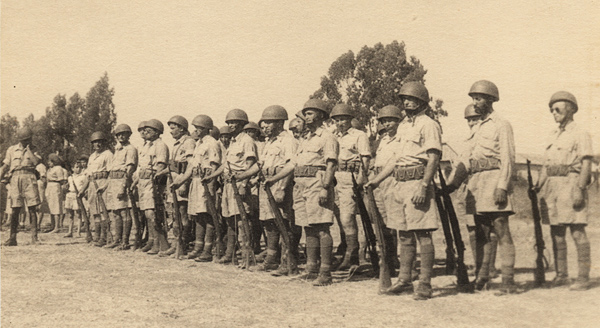 Hagannah - 1948
In 1948, he gave his address on a power of attorney as 36 Maimon street, c/o Dr Israel Auerbach, Jerusalem (Palestine). He also declared being a Spanish citizen - apparently he never acquired the Israeli nationality.
1949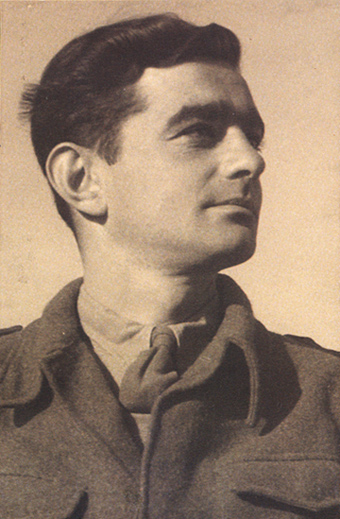 Uriel, Tel-Aviv - 1949 (photo: Toni)
After the war.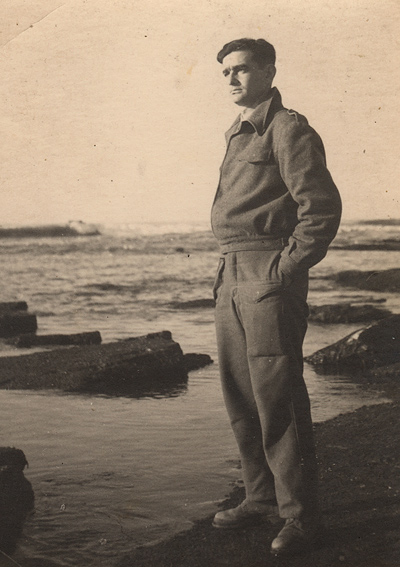 Uriel, Tel-Aviv - 1949 (photo: Toni)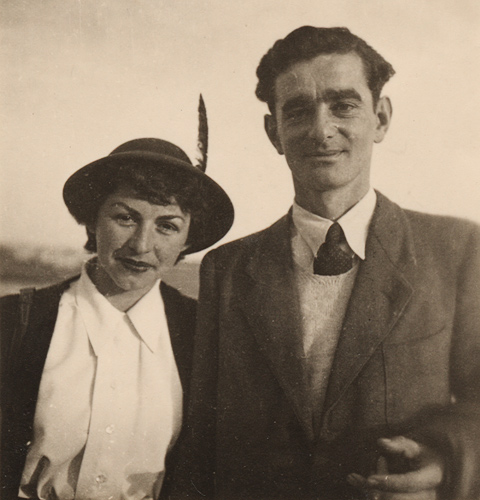 Uriel and Toni, Israel - 1948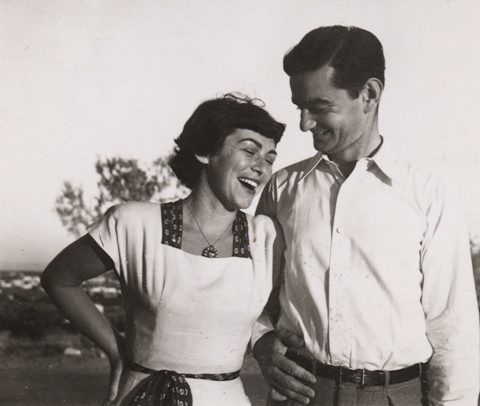 Uriel and Toni, Israel - 1949
Paris 1950 - 1951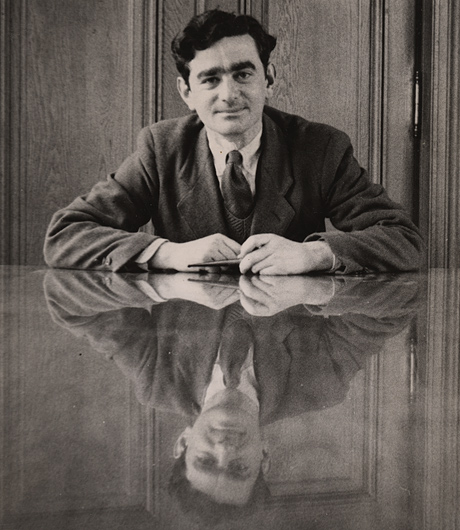 Uriel, Paris 1950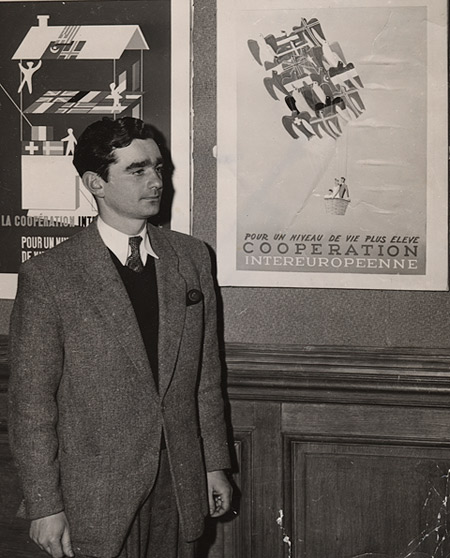 Uriel, Unesco contest, Paris 1950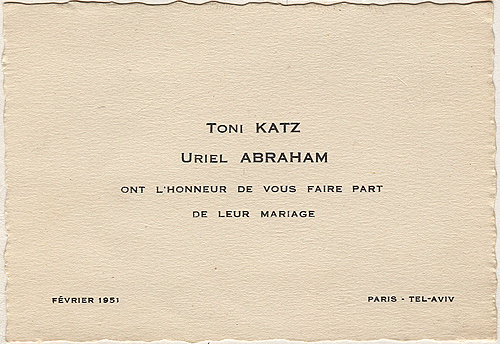 Uriel and Toni Wedding, "Paris - Tel Aviv", February 1951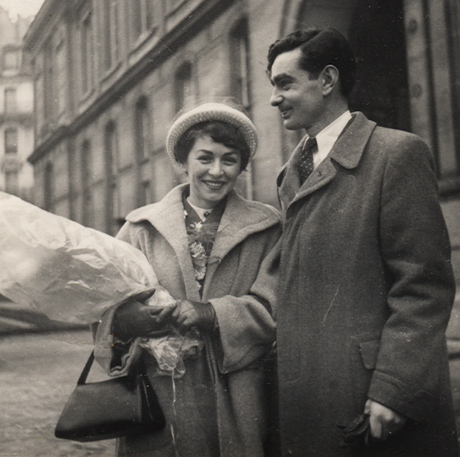 Uriel and Toni Wedding, Paris, February 1951
Interviews:

Alex Neuhoff
Alex Mallat
Bitia Biesel
Thanks:

David Benaim, for the photo of the house rue de l'Oise, Casablanca
Barbara Pollak, daughter of the photographer Paul Pollack, who shared stories about our fathers in Casablanca during the war
Santiago Sanchez, for identifying his father on the Bou-Arfa photo, and confirming my father's description of life in the internment camp.