Max Katz
Formerly listed as the "Unknown" Katz Brother.
The "Unknown/Mystery Katz" whose existence was doubted by several Katz relatives and whose name was forgotten by those who claimed to have known him or had heard about him (my mother, Siegmund Spiegel, Max Frankel), now has an identity: his name was Max Katz.
The "Unknown" Katz Brother
According to my mother, there was a fourth Katz brother who had immigrated from Sokal to America before WW1. However, she didn't know his name.
She remembered letters were exchanged in the 1930's with relatives back in Poland, and believed she remembered her parents receiving a letter from this uncle in America - although she wasn't sure if this had happened or if she had simply imagined it.
According to her, Mary Frankel knew him and had met him once when she and Max had arrived in New York. According to her, Mary had said he had two daughters. Beyond that, my mother didn't know anything more about him.
Asked about this "American" Katz relative however, two cousins I spoke to said they had never heard of a fourth Katz brother in America. So, for many years, the existence of a fourth Katz sibling was merely hypothetical.
In 2005, I met with Siegmund Spiegel, a childhood friend of my mother who was the first person to confirm the existence of this unnamed, forgotten Katz.
He remembered meeting this fourth Katz brother, but couldn't remember his name. He said he had met him briefly in a restaurant to ask for papers for Toni and Saul:
"…I spent literally days pursuing some of the Katz family that lived in New York. You know, in Gera, there were three Katz brothers: Leo, Aaron, and Mathis... But then there was another brother who lived here (in New York). He must have come in the late teens or twenties"

"I saw him late 1938... He lived somewhere in Brooklyn, and he worked in a Jewish deli as a waiter, downtown New York. I talked to him about (getting) papers for Toni, and he said he couldn't help. He said he was in "tzuris" himself... He already had problems himself, his wife was ill, and so on, so he was no help…"

He said "I have no money, I'm poor, I work here for tips, I can be of no help."
In 2011, Max Frankel provided additional confirmation of the existence of this New York Katz relative, and described how he had lived with the family of this unnamed Katz for one summer in the early 1940's in the East Bronx, near Crotona Park:
"He lived in the Bronx, not Brooklyn. (He) was a waiter on the Lower East Side.

I do not know if he was really a sibling. My mother called him "uncle" and she regarded his children as cousins. They were Charlotte (never married); Harry, without apparent family, last seen as a cab driver in the 1970's; and Julius, who was married, had at least one child, lived in Queens, attended NYU with a major in journalism and worked in public relations for a time.

Julius was a buyer at Abraham and Strauss store in Brooklyn. He died at a fairly young age - I attended his funeral but can't place the date - surely more than 20 yrs ago.
Max Frankel spent a few months with this relative while school was out for summer and his mother had to work and couldn't watch him.
When I lived with them one summer in the East Bronx, Julius (Jules) seemed to be a few years older than me--late teens, I suspect--and Harry was working somewhere and clearly in his 20s. Charlotte was even older and there was always much anxiety about her not being married. Their mother was sickly by then, but warmhearted and generous."
"Unknown" no more
In 2013, Max Frankel provided new information, finally putting a name on the "unknown" Katz:
(...) "I have found some sketchy outlines of a geneology being developed by my late wife, Tobi."

"Her listings show a Herz Wolf Katz, as born in Sokal (Galicia) and as having died "around 1900" at the age of "about 50." His wife is listed as Hannah."

"Their children were
- my maternal grandfather, Mathias (or Matteas) Katz, who married Margule Pfeffer; - Aaron who married Golde and then Suste;
- Max, who married Rose Eckstein; - and Leo, who married Frida Tabak."
Max married Rose Eckstein in New York. They lived at 782 East 175th Street in the Bronx and had three children: Charlotte, Harry (who married Dorothy Pressler) and Jules (who married Doris Michaelson). I do not know how he came to New York.

Jules went to NYU and studied journalism and did a little bit of writing, then married Doris Michaelson. He became a salesman for Abraham & Strauss in the Brooklyn store and died at a fairly young age.
According to Max Frankel, there is "no question" in his mind hat Max Katz was a sibling, based on very strong resemblance with photos of Leo Katz. He also remembers his mother Mary calling him "Uncle Max."
Unrelated Katz?
Despite the confirmation of the existence of a New York Katz in the 1930's, it still cannot be absolutely confirmed that this Max Katz was indeed a sibling of the Sokal Katz brothers, as no official documents have surfaced so far.
Another possible answer to this riddle is that Max Katz was instead related to Aron Katz's second wife Gustl, whose maiden name was also Katz. This would explain why no one in the Katz family could remember his name, or even ignore his existence.
Reinforcing the possibility that Max Katz was related to Gustl is a postcard sent by her son Saul to his friend Siegmund Spiegel.
Saul had been deported to Poland with his parents and wrote to Siegmund, who then resided in New York, asking him if he had managed to contact his uncle, with the hope that he would be able to help his family obtain an exit visa to the USA.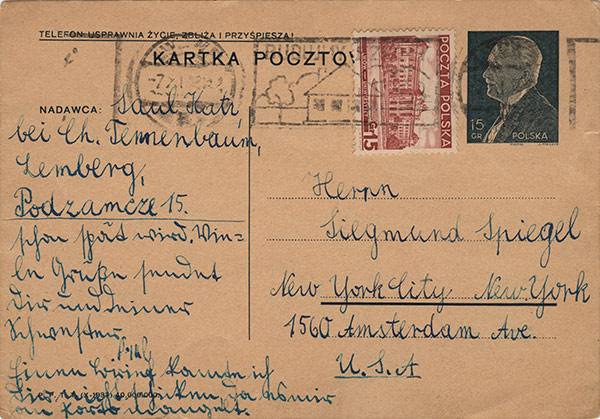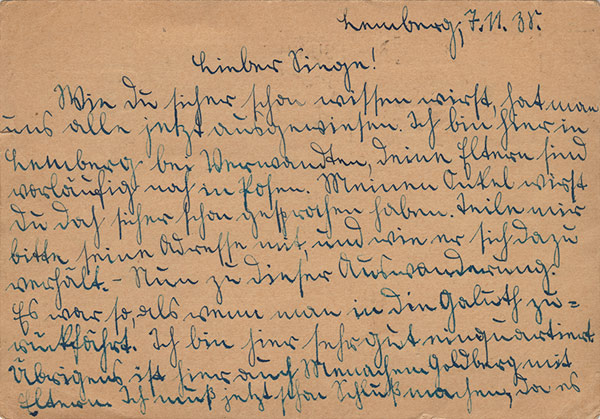 Postcard from Saul Katz, Lviv, 1938
(Courtesy of Siegmund Spiegel)
c/o Ch. Tennenbaum
Lemberg
Podzamcze 15

Lemberg (Lvov, Lviv), November 7, 1938

I'm sure you know by now that all exit visas... (?)
I'm here in Lemberg with relatives. Your parents (Sigmund Spiegel's) are temporarily in Posen.

I'm sure you have talked to my uncle* in the meantime. Please let me know his address and how he reacts to our request. (...)

I now have to cut it short since I can't afford to write a letter, I have no money for postage.
Best regards to your sister,
Saul
More Katz brothers uncovered?
Newly (2012) discovered birth records for Sokal have revealed three formerly unknown Katz siblings: Osias Mayer (1889), Nachman (1890), and Leibisch (1891). The existence of additional sons to Herz Wolf Katz makes it a possibility that there was indeed a Katz sibling in America, however none of them with a name obviously translating to "Max". So far, no Katz from Sokal with one of these names (or named Max) have been found in the the Ellis Island online database.
Special Thanks:

Max Frankel, who put a name on the formerly "unknown" Katz brother and provided most of the data about him
Siegmund Spiegel, who was the first to confirm the existence of an "unknown" Katz in New York and described his encounter in the late 30's.